| | |
| --- | --- |
| | This is a featured article; it (or a previous version of it) has been identified as one of the best articles produced by the Wikia . |
Biff Andreas
Billing information
Ring Names
Biff Andreas
Original B
The Ladies Man
Mr. Wrestling V
Joseph Hoolihan
Height
6 ft 0 in (1.85 m)
Weight
230 lb
Born
October 30th, 1986 (Age 31)
Hometown
Detroit, Michigan
Resides
Billed From
Detroit, Michigan
Wrestling information
Alignment
Heel: OPW, New-NAW
Trainer(s)
DCO
Danny Jackpot
Styles
Brawler, Grappler, Showman
Professional career
Debut
Independents (2008)
August 16th, 2009
Retired
Yet to retire.
Biff Andreas is a CAW Professional Wrestler. He currently wrestles in Omega Pro Wrestling as a member of the Soundwave roster, New-NAW, EMPIRE Wrestling, and WCDL, XGWL's developmental league. Biff is a former New-WWE United States, Intercontinental and Tag Team Champion, as well as the first ever NXT Champion; in addition, his Universal title win makes him the 35th Triple Crown Champion and the sixth Grand Slam Champion in New-WWE. During his New-WWE tenure, Biff has appeared in several pay per view main events most notably in the year 2017 and 2018.
As a rookie, Biff applied for several CAW Searches, but would fail to win a single one. His luck would soon change, as he would win a match at NAW Emperor Rule, defeating seven other prospects to receive a contract. Today, Biff is the off-screen co-owner of New-NAW (the spiritual successor of New Age Wrestling) along with Danny Jackpot.
Current Vivianverse Leagues
Early Appearances & Tag Team Champion (2009)
At NAW New Found Glory, Biff had defeated Too Cool II with his partner William Regal to recieve a New-WWE Unified Tag Team Championship match at the New-WWE/NAW Royal Rumble event (thanks to a talent exchange initiative between New-WWE and NAW). Although, his partner was later changed to Shawn Dynasty. Biff and New-WWE's Mr.MITB had a disagreement over the Tag Title Contender spot and solved the dispute over a match on NAW Mayhem which he lost after a Tiger Bomb. New-WWE GM Shane McBurb hinted that Biff and Mr. MITB may have a rematch sometime. Biff's partner William Regal was replaced with Shawn Dynasty for the New-WWE/NAW Royal Rumble event, Biff and Dynasty had lost the match against Edge and Chris Jericho allowing them to retain. However, Jericho & Edge were stripped of their titles and suspended for abusing their interim GM Powers. During this time, Biff would also act as an enhancement talent, losing to the likes of Mr. Mac, Evan Bourne, and The Miz in singles competition.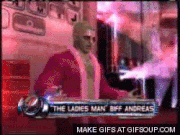 Shane McBurb had a Tag Gauntlet on New-WWE Superstars where the winner would become the new Unified Tag Team Champions. Biff and his partner Shawn Dynasty managed to beat The New-WWE Kids and Ezekiel Jackson & Gunner Fatu Jr but were defeated by ACWL's Shadow The Hedgehog and Guile. Biff competed in the Royal Rumble match soon after his Tag Title match, entering 22nd and being eliminated with the combined efforts of Carlito & Allen Ceaser 3. At New-WWE No Way Out Biff and Shawn Dynasty got another title shot against champions Shadow The Hedgehog & Guile.
They were successful at winning their first Tag Team Titles. For the next month heading into New-WWE Wrestlemania IV, Biff would begin re-feuding with Mr. MITB for the Tag Team Titles. During this time span, Biff would score a victory over Mr. MITB at NAW Hardcore Impulse. However, Mr. MITB & Damar had defeated Biff Andreas & Shawn Dynasty for their titles at the event. They would use their re-match clause at a New-WWE Superstars episode, only to lose again causing Shawn Dynasty to betray Biff ending their Tag Team. Following their separation, Biff was demoted to the newly started NAW developmental territory, DCO, and would stop making New-WWE appearances as a result.
Re-debut; United States Champion (2012)
On January 18th, 2012, Biff re-emerged, now officially signed to New-WWE rather than participating as guest talent from NAW, under the Smackdown brand. Biff made his return in-ring defeating John Morrison. He would soon align himself with CAW Legend Danny Jackpot after he took him under his wing and made him his protege. Biff would win a number one contenders match on Episode 219 of Smackdown for the United States championship and earning the right to face Daniel Bryan at Summerslam 6. He would go on to win that match, along with his first singles championship in New-WWE.
Biff would then engage in a rivalry with Evan O'Shea, where he would compete in a series of matches for the New-WWE United States championship. He would eventually drop the championship to O'Shea in a highly praised match-up at New-WWE Over the Limit 4. A rematch under 2/3 falls was announced immediately afterwards however for New-WWE Survivor Series 3; he would be defeated by his rival O'Shea yet again.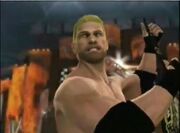 Feud with Danny Jackpot; Face turn
Biff's second loss to O'Shea would envoke the wrath of his mentor Danny Jackpot, who would cut off all ties with him turning Biff babyface as a result. He would replace Biff with Mark Henry, defeating Andreas on the following Smackdown. Out of spite, Biff would go to the Board of Directors requesting a tag team match with Jackpot and Henry at TLC with his partner of choice, the returning Pablo Alfonzo Gonzales; where they would pick a victory. Danny, embarrassed with his loss, would challenge Biff to a 1 on 1 match at the Royal Rumble, where Andreas would lose.
Various Feuds; Intercontinental Champion; Pursuit of the World Heavyweight Championship
Soon after Biff's singles bout with Danny Jackpot at the Royal Rumble, he would keep a low profile until after Elimination Chamber. He would win a #1 Contenders Match to face then Intercontinental Champion, Matt Eichorn at New-WWE WrestleMania IX. The match included Ted DiBiase, Justin Gabriel, and Brent Harvanator. Matt Eichorn would cut a promo the week before the event, claiming he didn't consider Biff to be a threat due to his previous gimmicks. Unfortunately, Andreas would come up short during his title match with Eichorn.
Eichorn wouldn't see the last of him however, as Biff would controversially earn himself a second shot at the championship. Biff formed a temporary alliance with The Big Show, having him give a title shot to him during a tag team match where the man who received the winning pinfall or submission for their team would earn the said title shot. This would soon culminate into a triple threat match at New-WWE Extreme Rules 6 after Eichorn manipulated Show into betraying Biff. This would prove to be all for nothing, as Andreas would pick up an underdog win at Extreme Rules, defeating both Eichorn and Show for the Intercontinental Championship. On Episode 248 of Raw, Matt Eichorn would enact his rematch clause for the Intercontinental Championship, setting a rematch between Biff and Eichorn for the title at Judgement Day 6 in stone.
He would go on to retain his championship against Eichorn. Soon after dealing with Matt Eichorn, another obstacle would be thrown in Biff's path in the form of one of his previous rivals, Evan O'Shea. He would win a number one contenders match to earn a shot at Biff's championship and a fourth encounter with him at New-WWE Money in the Bank 3. Biff would lose his championship to O'Shea at Money in the Bank 3 after Big Show hit him with a WMD and he took advantage of the situation. At Over the Edge, Biff would lose to Big Show in singles competition.
On the following Smackdown, Biff would be interviewed by Todd Grisham concerning his losing streak. Biff then promised that he would turn his slump around and announced that he plans to headline New-WWE WrestleMania X as the World Heavyweight Champion. Damien Sandow would then beat Biff down with a lead pipe, dismissing his claims. Damien and Biff would face off at Vengeance where Biff would once again lose. Later, Biff would challenge his newly found rival to a rematch at Night of Champions, where Biff would pick up the victory.
On the following Raw, Damien Sandow and Biff Andreas would go head to head one last time to settle the score with Biff winning. The match also saw Biff Andreas debut a secondary, submission based finisher, The Monkey Wrench.
After settling the score with Damien Sandow, Biff would dive head first into yet another feud, this time with Money in the Bank holder Dolph Ziggler. After a match between Tyler King and Dolph Ziggler, Andreas would save Tyler after Ziggler would try to attack him with a steel chair. The following week, Biff would reveal that Tyler King and himself were long time friends and has been trying to get Tyler King signed for a while. Eventually, Biff and Ziggler would inevitably face off at No Way Out with a fan picked stipulation of Ziggler's briefcase being on the line. Andreas would come up short despite a valiant effort.
Recovering from injury; Feud with Alberto Del Rio; Road to WrestleMania X (2013)
A triple threat match between Biff, Tyler King, and Dolph Ziggler to determine the number one contender for the WWE Championship would be confirmed for New-WWE Hell in a Cell 5 off-screen. Tyler King would go on to win the match. On the last Raw headed into New-WWE Survivor Series 4, WWE Championship Money in the Bank holder Alberto Del Rio would break Biff's arm with his cross armbreaker, putting him out of commission until further notice.
Biff Andreas made his return to in-ring action at New-WWE Royal Rumble 7 during the Royal Rumble match, making it all the way to the final two. The number 40 spot was revealed to be Alberto Del Rio, the man who snapped Biff's arm and put him out of action two months. Taking advantage by hitting Andreas with a cheap shot from behind, he would swiftly eliminate Biff winning the Rumble.
Due to a rule stating that each competitor has a set time in which they must enter the ring during the Royal Rumble match, Alberto Del Rio would be punished on the following Raw when the New-WWE Board of Directors booked Biff Andreas to go one-on-one with him at Elimination Chamber 6. Biff would win, adding himself to the World Heavyweight Championship match at New-WWE WrestleMania X as part of the added stipulation.
During the event, Biff was attacked backstage by Alberto Del Rio in an attempt to keep him from competing in their match. Despite his injuries, he would show up later and make good to his promise by competing for the World Heavyweight Championship. He would lose the match despite his best efforts to overcome his injurys.
Brass ring out of reach; Various title shots; Revival of Danny Jackpot feud
Biff Andreas would receive another shot at Sheamus' World Heavyweight Title on the following Smackdown in the Main Event, losing yet again. The next show had Alberto Del Rio gloating about Biff's back to back losses, making claims that Biff wasn't fit to compete at that level. After an argument and a backstage brawl, John Laurinaitis would book the two in an Ultimate Submission match at Extreme Rules 7.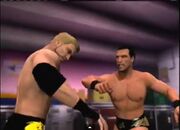 Biff Andreas would lose the Ultimate Submission match to Del Rio, with the score being 3-4. On the next Smackdown however, Biff would argue that even though he lost the match, he was able to solidify his main eventer status since he took Del Rio to the limit in a match that favored him. He would then challenge whoever was the World Heavyweight Champion at Money in the Bank to a title match, which provoked The Shield into attacking him.
Dean Ambrose of The Shield would explain his actions, explaining that Biff Andreas receiving another title shot after blowing his last two chances would be a large injustice. Both superstars convinced that they deserve the opportunity, John Laurinitus would book a Number One Contenders match for the World Title at Over the Limit 5. Biff would win said match by making Dean Ambrose submit to his patented Monkey Wrench, earning a World Heavyweight Championship match against his former mentor, Danny Jackpot, who would win the title later in the night.
Biff Andreas on the following Smackdown would be interviewed about his feelings on his title match. He would reveal he still has hard feelings about Danny and all the things he did to him over the years since he never got his redemption. Later in the night he would team up with TRS in tag team action to face Danny Jackpot and Christopher Cauckel, with TRS scoring the victory for his team.
The next Smackdown featured Biff Andreas headlining the show by facing Antonio Cesaro, where he would win the match. Afterwards, he became the victim of a sneak attack by his Money in the Bank opponent, Danny Jackpot.
Biff would receive his revenge the following night, this time hitting Danny with his world championship belt after he fought his returning cousin in the final match on the Smackdown card.
Biff Andreas received his third shot at the World Heavyweight Championship at New-WWE Money in the Bank 4 against his former mentor, Danny Jackpot. After an emotional contest, Danny would steal a victory by familiarly hitting Biff with his title belt while the referee was down.
For cheating, Biff Andreas would be made special guest referee in Danny's World Heavyweight Championship title match against Dolph Ziggler at No Way Out. Dolph Ziggler would win the contest after Biff called the match down the middle.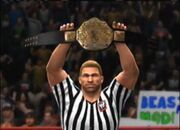 Danny Jackpot would challenge Biff Andreas to an I Quit match at Summerslam, where Biff would lose despite never saying the words, "I Quit". He was unresponsive.
Return from injury; Pursuit of the World Heavyweight Championship II; Making a WrestleMania moment
Andreas would make his return on the episode of Smackdown after Hell in a Cell 6 defeating David Otunga. He would announce afterwards that he was still chasing after his goal of being a World Champion in the New-WWE; Belmont would attack him immediately afterwards as a way to eliminate the competition for the WWE Championship early. This lead to a match between the two at Battleground.
Biff would lose his bout with Belmont at Battleground.
After his pay per view match-up with Belmont at Battleground, Biff Andreas would be announced as a member of Team Starr in the main event of Survivor Series 5, Team Cass vs Team Starr. In the event, the two sole survivors of both teams would be Jacob Cass and Biff. Andreas would fight for his team valiantly, eliminating Belmont in the process, but would be picked off by the leader of the opposing team.
On the Raw after Survivor Series 5, Biff Andreas and Tyler King would partner up to defeat Andrew Liana and Steven Raden in a match to name the number one contenders to the Shield's tag team titles.
Despite their combined efforts, Biff and Tyler King would be defeated by the Shield in decisive fashion. After this championship match, Biff would compete in a Royal Rumble preview match, a bout with the purpose of showcasing the upcoming event. Biff would win the match, last eliminating Jack Swagger with a hurricanrana over the top rope.
Biff would compete in the actual Royal Rumble, drawing the #1 spot. He would eliminate Darren Young, Virgil, and Kofi Kingston before being eliminated by Cesaro.
After the Rumble, Biff would face off against the Human Wrecking Ball, Ryback, in a qualifying match to be entered into the Elimination Chamber match at the event with the same name. In an upset victory, Biff would defeat Ryback, entering himself into the match to determine the #1 contender to the World Heavyweight Championship at WrestleMania XI.
After defeating Damien Sandow on the next Smackdown, Sebastian Cruise would cut a promo on Biff's many attempts to win New-WWE World Title gold, and how at Elimination Chamber he would once again lose. Biff would then challenge and defeat Sebastian in the main event on the following Smackdown, ending his undefeated streak.
At the Elimination Chamber event, Biff would be one of the final two competitors in the match along with Sebastian. Despite this, the victory was out of reach, as Sebastian made good on his promises by defeating him.
On the following Smackdown, Biff Andreas and Sebastian Cruise were the main event of the evening. Biff was defeated by Sebastian, his rival gaining momentum for his match against World Heavyweight Champion TRS.
The following week, after seemingly running into a dead end in his quest to once again receive a title shot at WrestleMania, Biff challenged the two year long DCO World Champion; Bo Dallas to a match. Bo would accept his challenge, noting that he would once again fail. The following week, Biff would compete on Raw in a tag team match, teaming with Sheamus to take on Bo Dallas and Matt Eichorn. Sheamus would gain the victory for his team after brogue kicking Bo Dallas.
DCO / NXT Championship (2015)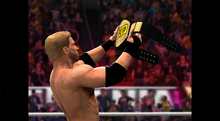 At WrestleMania XI, after a long, hard fought journey, Biff Andreas would finally receive his WrestleMania moment after defeating Bo Dallas for the DCO World Championship. On the Post-WrestleMania Raw, Biff successfully defended his DCO Championship against Bo in the opener. He was attacked by Roman Reigns and Dean Ambrose afterwards, with Seth Rollins explaining that at Extreme Rules 8 he would be his next challenger for the title, and that management granted him the match since Seth beat him a few weeks prior.
Biff would team up with Big Show on Episode 326 of Raw to take on Seth Rollins and Roman Reigns of The Shield, and lose after being curb stomped by Seth.
At Extreme Rules 8, Biff would retain his championship by count-out after he received a vicious beating on the outside by Seth who ignored the referees counting. At Payback, Biff was made to defend his championship against Seth Rollins, Matt Eichorn and Dolph Ziggler. Despite the odds being against him, he managed to defeat his challengers and retain the NXT Title. Biff's victory over his three competitors would be short lived though, as Seth Rollins would powerbomb Biff off the stage on an edition of Smackdown, claiming afterwards that he would make his life a living hell if he didn't receive another shot at the title come Money in the Bank 5; at the event, Seth Rollins would finally win the NXT Title from Biff.
After losing his NXT Championship, Tyson Kidd would receive an upset victory against Biff on an episode of Raw after Seth Rollins caused a distraction. For several weeks, Tyson would brag about holding a victory over him, until Biff had enough of it and challenged and defeated Tyson Kidd in a match at No Mercy 3.
After defeating Tyson Kidd, Biff Andreas would confront Sebastian Cruise interrupting his promo on Raw, claiming that he's going after everybody who wronged him starting with him; Biff cited Sebastian defeating him in the Elimination Chamber as the reason for his anger. This culminated into a match at Summerslam 9, where Biff would defeat Sebastian Cruise.
Biff would qualify for a Number One Contender's Battle Royal for the WWE World Heavyweight Championship at Night of Champions 8 on an episode of Smackdown soon after defeating Cruise; the match was a triple threat that included Fandango and Connor Wine. On the final Raw before the event, Biff would cut a promo about how nobody on the roster wanted to be champion more than he did, and that he'd been fighting for the chance of a very, very long time. He would subsequently defeat Sebastian Cruise a second time afterwards picking up momentum towards Night of Champions.
Heel Turn; The Authority; Second US Title Reign (2016)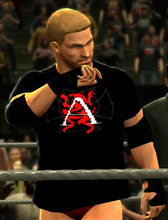 At Night of Champions 8, Biff competed in said Number One Contender's Battle Royal, scoring one eimination (over Andrew Liana) and lasting all the way until the end before being eliminated by Roman Reigns. Having seemingly blown his best chance at returning to the main event picture, Biff walked away dejectedly. However, during the Main Event match between WWE World Heavyweight Champion Zach Starr, Randy Orton and Jacob Cass (for said title), Biff would interfere wielding a steel chair, tossing it to Orton for a cheap-shot. Afterwards, Biff would cheap-shot Zach a couple times before leaving in time for Orton to get the pin and win the title, aligning himself with The Authority and turning heel in the process for the first time in New-WWE in three years.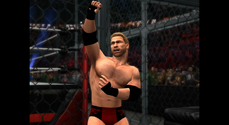 The following Raw, Biff explained that it was not a "betrayal" per se because he was never Zach's ally; Zach being World Champion had rubbed salt into Biff's old wounds from his time under his cousin Danny Jackpot, and aligning with the Authority gave Biff the best chance at returning to the main event. Of course, Zach quickly rushed into the ring before Biff got out of Dodge. In a later interview, Zach explained that his desire for revenge is so great, he will delay invoking his WWE World Heavyweight Championship rematch clause until Battleground 2, and challenged Biff to a match at Hell in a Cell 7 under the titular stipulation.
At first, Biff declined the challenge, with his mind on winning the #1 Contender's match against Roman Reigns (because of a save he had made the previous week, Roman was ordered to defend his #1 Contender's spot against Biff in that main event). However, with Zach's theme playing and costing Biff said match, he would later accept his challenge and defeat him in the Hell in a Cell match. As a result, it was exclusively announced on the Wikia that the previously-mentioned Battleground 2 WWE World Heavyweight Championship match would be a Fatal Four-Way, with Biff joining Randy and Zach as well as Roman. At the event, Zach Starr would regain his championship that Andreas screwed him out of two events prior.
On the following Raw, during the main event between Zach Starr and Cesaro, Biff would blindside Starr during the match. Afterwards, Stephanie McMahon would announce him as being the number one contender for Starr's championship at Survivor Series 6. After being defeated by Zach Starr at Survivor Series, Starr would be attacked from behind by the returning Sebastian Cruise. On the following Raw, Biff would interrupt Sebastian's promo after he was opting for number one contendership. Stephanie McMahon would announce in the main event that the winner of Biff Andreas vs Sebastian Cruise would challenge Zach Starr for the title at TLC 7. Andreas would be defeated by Sebastian Cruise.
On the go-home Raw before TLC 7, Biff announced that he would be facing the winner of that night's NXT Championship match between Dean Ambrose and Ryback for the title at Royal Rumble 9; as the first holder of said title, he aims to become its furst multi-time holder. At the Royal Rumble, Biff attempted to cheat to win back the NXT Title when Big Show tried to knockout punch Ambrose, but he would knockout Biff by mistake giving Ambrose the win. In the main event on the following episode of Raw, Biff and Randy Orton would pair up to take on Zach Starr and Danny Jackpot who returned at the Rumble. Biff and Orton would lose after Biff was pinned by Danny following a Cash Out. On Smackdown, Biff would lose to Cesaro in the main event, failing to qualify for the Elimination Chamber match for the NXT Championship at Elimination Chamber 7.
On the following Raw, Biff would challenge John Cena for the United States Championship at Elimination Chamber after nailing him with the title. He explained backstage that he was doing this in order to prove his worth as a member of the Authority by taking out the man who injured Triple H; he also proclaimed that The Authority had made the match No Disqualification.
At the event, Biff Andreas would defeat John Cena following an assist by Brock Lesnar, becoming a two-time United States Champion. Later in the show, Biff was confronted backstage by a returning TRS, who made it clear that he was setting his sights on Andreas' newly-won U.S. Championship. He would successfully defend his championship against Neville at New-WWE Live 2K16.
Following the next episode of Raw, TRS would defeat Matt Eichorn to become number one contender for Biff's United States Title. The match was scheduled for WrestleMania XII. On an episode of Raw, Biff and fellow Authority member Seth Rollins would take on TRS and the rejected member of the Authority, Randy Orton in a losing effort after Biff was pinned following a TRStupifier by TRS. Biff would later take to Twitter to warn TRS about challenging him at WrestleMania. On the last episode of Raw before the event, Biff would defeat Titus O' Neil in a non-title bout.
At WrestleMania, Biff would lose his United States Championship to TRS despite a pre-match assault during his opponent's entrance. During the match, Biff used tactics such as removing a turnbuckle revealing exposed steel and a dirty pin, putting his feet against the ropes to gain extra leverage. On the post WrestleMania episode of Raw, Biff Andreas would be defeated by John Kimble who was making his Raw debut. The following week, Biff would defeat Dolph Ziggler on Raw and announce that he was enacting his rematch clause for the United States Championship, challenging TRS at Extreme Rules 9 for the title where he would lose.
At Unforgiven 4, TRS would be forced to vacate his championship due to injury, and Cesaro would win the vacant championship at Summerslam X. During this time, Biff would lose to Chris Jericho whom he was feuding with at the time. On an episode of Raw, Biff would cost Jericho a title match against Cesaro after attacking the former causing a disqualification. Cesaro would attack Biff afterwards for ruining their match. Management afterwards would book a triple threat match between Biff, Chris Jericho, and Cesaro for the United States Title at Clash of Champions. Soon after, when Cesaro was interviewed by The Wingmaster about his opinions on the match, Jacob Cass would attack him with a lead pipe inadvertently causing management to add Cass to the Triple Threat turning it into a Fatal Four Way.
The Rise of Biff Andreas; Face Turn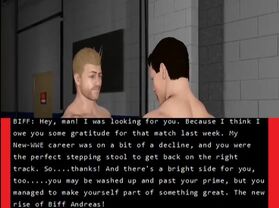 At the Roadblock Pre-Show, Andreas defeated Vader. Afterwards, Biff would participate in the annual Royal Rumble event, being eliminated by Chris Johansen. On a later episode of Raw, Biff would pick up a victory against Belmont, and confront him the following week backstage, leading to a brawl between the two. The following week before Fastlane, Biff would challenge Belmont to a match at the event before facing Cesaro. Belmont would cause a distraction, giving Cesaro the win. At Fastlane, Biff Andreas would be defeated by Belmont in their match.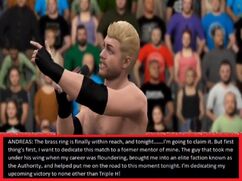 After Fastlane, at the end of a tag team match between Dolph Ziggler & Cesaro and Christopher Cauckel & Athouse, Biff would announce his entry into the annual Number One Contender's battle royal for the Universal Championship, declaring that he would end the current season with a win at WrestleMania, and start the following one as Universal Champion. At WrestleMania, Biff would win the battle royal eliminating Christopher Cauckel, Matt Eichorn, and Athouse to become number one contender for the Universal Championship. On Raw episode 400, Biff was unsuccessful at winning the Universal Championship against Randy Orton. Before the match would begin, he would dedicate the contest to Triple H.
The following week, Biff would appear in an interview with The Wingmaster, and asserted that, in spite of his loss at the hands of Orton, he would continue his pursuit of the Universal Championship and vowed he would claim it in due time. After Biff left, Athouse emerged and cut a scathing promo directed towards Andreas, calling him a "choke artist" (in reference to the multiple instances of Biff having come within inches of capturing a World Title in New-WWE, only to come up short), and wrote off his victory in the battle royal at WrestleMania as another lucky break that would go nowhere.  After Athouse's victory over Neville the following week, Biff assaulted him post-match, turning face in the process and setting up their match at Payback, which Biff would win. On the following Raw, Athouse addressed his defeat at the hands of Biff, labeling it a fluke and citing how dominant he was throughout the match as evidence. He challenged Biff to a rematch at Extreme Rules, held under Falls Count Anywhere rules. At Extreme Rules, Biff and Athouse engaged in a brawl that spanned the arena, eventually ending up backstage. In the midst of the match, Andreas attempted to bring the fight to the Authority's office. Immediately after opening the door, he was blind-sided with a steel chair and brutally assaulted by his former mentor, Triple H. After capping the beat-down off with a Pedigree, Triple H left the scene and Athouse picked up the scraps, gaining the pinfall over Andreas.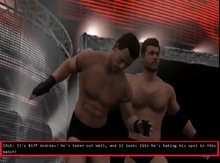 On Raw, Triple H called Biff Andreas a failed project, criticizing him for dedicating his Universal title match after WrestleMania to him and then losing. Triple H would then name Titus O'Neil as the new general manager who would announce the main event of the night: Matt Eichorn and Athouse taking on the team of Randy Orton and Tommy Wall. Before the match happened, Biff Andreas attacked Wall and took his place in the match, scoring the victory for his team after pinning Athouse with a Wave of the Future. Following his pinfall victory, Biff staked his claim to being a part of the Great Balls of Fire main event, since he pinned one of the number one contenders to the title.
Raw general manager Titus O'Neil would add him to the main event, under the condition that he defeat Matt Eichorn in a no disqualification match. The next week, Biff would defeat Eichorn after smashing his head with his boot against the outside turnbuckle pole. At the Great Balls of Fire event, instead of Orton defending his championship, it would be Athouse walking into the match as champion after defeating him on the Raw beforehand; additionally, Orton would be unable to compete in the match due to an attack by Apollo Crews during the match, making the Great Balls of Fire main event a triple threat.
Universal Champion (2017)
Biff would come close to winning the championship, but due to an interruption by Triple H, Athouse would pickup a roll up victory. On the following Raw, however, Biff would have a lucky break. While Titus was in the midst of naming Apollo Crews the number one contender to the Universal Championship heading into Summerslam XI, a returning Shane McMahon interrupted. Shane would go on to inform Titus that the New-WWE board of directors had revoked Triple H's power over the company as a result of his repeated interference, and that Shane would be filling in for Triple H. Shane's first move was to strip Crews of his number one contender's status and instead set up a No DQ number one contender's match for the following week on Raw, between Crews and whomever won a match on that night's show between Andreas and Matt Eichorn. Biff would triumph over Eichorn once more, earning himself the number one contender's match against Crews. Thanks to a returning Orton's mid-match revenge attack on Crews, Biff would get the victory, setting up the match with him and Athouse (who himself would ambush Biff post-match) at SummerSlam XI. At Summerslam XI, Biff Andreas would defeat Athouse to capture the Universal Championship and his first world title in the New-WWE, also making him New-WWE's 35th Triple Crown Champion and sixth Grand Slam Champion.
The following RAW, TRS proposed to Titus O'Neil that, as Titus does not want Biff as Universal Champion and Biff has never defeated TRS in New-WWE, TRS receive a title shot against Biff at No Mercy 5 should he retain his title against Athouse in the night's main event. Titus was happy to agree to that deal; as Biff did defeat Athouse that night, the match was officially set (and TRS ambushed Biff after said match with a kendo stick). The next week, Andreas and TRS faced eachother in a non-title match; however, Roman Reigns (who had been feuding with TRS) interfered and ambushed TRS, causing the match to end via disqualification in TRS' favor. As a result, TRS announced the following Raw that Titus had added a stipulation to the title match at No Mercy that would cause Andreas to lose the Universal Title if disqualified. The plan would backfire at No Mercy, when Reigns once again interfered, but this time attacked Andreas before laying his hands on TRS, which caused the official to disqualify TRS instead, resulting in Biff winning the match and retaining the title.
A rubber match would be booked for the main event of TLC 9, contested under TLC rules. In the weeks building up to the match, Biff would be paired up with Steven Raden in the main event of Raw to take on the team of TRS and Amir Barnes. Biff would win the match for his team by pinning TRS that night, on the final Raw before TLC, Biff, Shinsuke Nakamura and Steven Raden would take on the team of TRS, Barnes, and Athouse. At TLC 9, Biff Andreas would be defeated by TRS and lose his Universal Championship.
Despite losing his championship, the Authority and Titus O'Neil would postpone Biff's rematch for the title, and instead booked Biff Andreas and Triple H in a singles match at Survivor Series: Royal Rumble; later on, Triple H would announce that the match would be a traditional Survivor Series match with Biff being the captain of his team (also including Seth Rollins and Dean Ambrose) with Triple H being the captain of his (also including Raw Tag Team Champions Jacob Cass and Apollo Crews).
Frustrations; Heel Turn (2018)
At their Survivor Series: Royal Rumble match (which would be the main event), Biff and Triple H were the last two survivors in their match. Despite Biff hitting his Wave of the Future, Triple H still managed to kick out at two; this proved to be the breaking point for Biff's months of pent-up frustration and anger, as he would proceed to hit Triple H repeatedly with a chair, causing himself to get disqualified and winning the match for Triple H, though with the latter ending up carried off on a stretcher (with Biff continuing his assault after Triple H was placed on said stretcher).
On the following Raw, Biff was scheduled to get his much-awaited rematch for the title against TRS; however, New-WWE Chief Brand Officer (and Triple H's wife) Stephanie McMahon would come out before the match was set to begin, declaring that because of his actions at Survivor Series, Biff would never get his rematch, effectively destroying his chance of recapturing the title anytime soon. As further punishment, Stephanie brought out Brock Lesnar to attack Biff, booking a match between the two at Elimination Chamber 9. Biff was featured in an interview segment the next week on Raw, where he complained about once again being screwed out of the Universal Title, as well as having to face Brock Lesnar instead of getting a spot in the Universal Championship Elimination Chamber match. In the midst of venting his frustrations, he also took the time to throw shade at Daniel Bryan, stating that it was "inexcusable" that Bryan had been immediately thrust into the title picture after having been away from the ring for several years.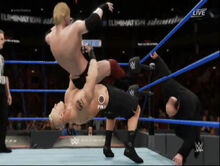 Biff Andreas and Brock Lesnar was the official main event for Elimination Chamber 9; however, it was declared a No Contest after Belmont interfered in the match, unhappy with how both Lesnar and his advocate Paul Heyman had not responded to his earlier challenge to a match at WrestleMania XIV.
On the next Raw, Biff would turn heel again after being confronted by Daniel Bryan, who would challenge him to a match. Biff refused to take part in a filler match against a man who spent three years on the sidelines, and that he wasn't worth his time. This would be the final appearance of Biff Andreas in New-WWE as the show would abruptly come to an end.
Jeri-MAX
Biff made a special appearance at the Jeri-MAX Spiral Rumble CPV, entering the rumble match at number 17 and lasted around 5 minutes before being eliminated by Tag Champion Evan Redcourne. During his time in the match, Biff eliminated 2 people: Blee Blee Blee and KAMA. He made one more appearance on the following WARP, where he was unsuccessful in winning Dylan Connell's half of the Jeri-MAX Tag Team Championships.
Biff once again competed in the Spiral Rumble Match in Season 2 where he did much better, lasting a little over 11 minutes and eliminating KAMA, Christian, and WEDF's El Rojo Mexico before being eliminated himself by Yuna.
He later appeared on the 2nd episode of Jeri-MAX Eastern, defeating Heel Brent Harvanator in the main event. He returned on Episode 4 in order to participate in a 4-Man Tournament to crown the first ever Jeri-MAX Light Heavyweight Champion. After defeating Oshujax in the first round, he would go on to defeat Skippy Pearls in the finals to become the inaugural Light Heavyweight Champion. On Episode 5, Biff successfully defended his Championship against a very tough opponent in Evan O'Shea, earning his first Jeri-Point as Champion.
Biff's reign as Light Heavyweight Champion and path towards making the Jeri-MAX roster would come to an end on Episode 6 when he was defeated for the title by Skippy Pearls. Despite his misfortunes, his showings were impressive enough to catch the eye of new Jeri-MAX General Manager Claude Frollo, who signed Biff Andreas to the roster as part of his New Talent Initative on February 23rd, 2012.
Feud with Aladdin Hassan
Biff would quickly create controversy by refusing to wrestle Aladdin Hassan for accidently murdering Caylen Rogers. He would begin a verbal campaign against Hassan, deeming him unsafe to work with. For weeks, he would find excuses to get out of his matches with Hassan, until the general manager Claude Frollo forced him into a match with Aladdin at Jeri-MAX Black Hole; where he would come up short.
Aladdin would eventually find himself in a singles match with the Money in the Jeri-Bank holder, 7-Up Spot, where Aladdin would yet again unintentionally murder him with his Spitfire move. With the holder of the briefcase being deceased, Claude Frollo would pit Biff Andreas and Aladdin Hassan against each other in a match for the vacant case, where Biff would once again lose to Hassan.
At the Jeri-MAX 50th Episode Celebration, Aladdin would defeat then Intercontinental Champion, Alberto Del Rio, in match to win the championship. Biff would comedically try and find ways through out the show to get Aladdin arrested for his two murders, until he found the Big Bossman, effectively having him arrest Hassan and forcing him to vacate the title. After complaining to Frollo about putting his life in danger multiple times, Biff received a shot at the Jeri-MAX World Heavyweight Championship in a match against Lamarell McDaniel on Episode 51. During the match, #1 Contender King Matt Eichorn would interfere, helping Biff in attempt to face what he perceived as an easier opponent in his upcoming title match at Jeri-MAX Ooze. Biff, however, would not accept a tainted victory, allowing Lamarell to recover and hit him with a Lamarell Bomb, retaining the World Championship. Biff would then face Eichorn on the following episode of VORTEX, but was unsuccessful in beating the King of Heavens.
Proving His Worth; Heel turn; "Biff-Chel"
Biff would only make a couple more appearances during the rest of 2013, trading wins with Grover Cleveland between Episodes 55 and 56. His next appearance would be on the first Jeri-MAX Eastern of 2014, where Biff pulled an upset victory over DreCon the Giant.
In the 25th and final episode of Jeri-MAX Eastern, Biff Andreas would defeat Christian in the opening match.
At Jeri-MAX Horizon, Biff would plead with the Executive Vice President of Talent Deflation, Debra, not to fire him and he promised to find a way to prove his worth. He got his opportunity on Episode 61 where he went on to defeat Jeri-MAX European Champion The Artist Formerly Known as Winter Bradleys in a non-title match. In retaliation, both The Artist and his wife Rachel attempted to persuade Debra and even Frollo to fire Biff Andreas for being a "random nobody." Instead, Frollo booked a European Championship rematch between the two at Jeri-MAX JeriMania the Third.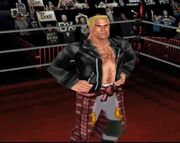 Biff went on to win his match with Winter Bradleys. After the match Rachel would dump and divorce The Artist, aligning herself with Biff instead, turning heel in the process.
Return of the Ladies Man; European Champion
During the King of Heavens 2014 Tournament, there was a champions showcase match where Biff, the European Champion, would team with the Hardcore Champion, Big Cock Fale against the Intercontinental and World Champions; Dorf Liggleton and Grover Cleavland in a winning effort. Before the match, Biff was spotted in the crowd trying to get some numbers from the female fans.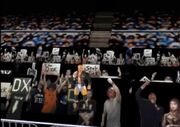 On the first Warp of the season, Biff would dump his new girlfriend Rachel saying that he didn't need her, and that he's an Jeri-MAX original from the text based e-fed in 2008; he said he'd go back to being the "Ladies Man", as he threw a garbage can at Rachel, calling her a piece of trash. Later he defeated Steven Santos, and challenged any Jeri-MAX original in the locker room to a match, putting his European Championship on the line. Jurt Angle would come to the ring, upset that Biff was referring to himself as "The Ladies Man". A title match between TLM and Jurt would be booked for Recoil with the title on the line, under the condition that if The Ladies Man wins, he'll chop off Jurt's penis.
On the following Vortex, The Ladies Man would be spotted with Grandma Gower implying they had slept together. Jurt Angle makes fun of him for this, but he reiterates that at least he didn't get rejected like he had when hitting on Whitnique a foVortex, The Ladies Man would be spotted with Grandma Gower implying they had slept together. Jurt Angle makes fun of him for this, but he reiterates that at least he didn't get rejected like he had a few moments before. Jurt performs the Angle Slam on both The Ladies Man and Grandma Gower before leaving the room.
Debut; T.Y.S.O.N; Defeating Road Dogg for the Title
Biff Andreas joined T.Y.S.O.N during its twenty ninth edition of the show, where he was announced as the number one contender for Road Dogg's T.Y.S.O.N World Championship. His debut was in a tag team match with Garet Shetty as his partner taking on the then champion Road Dogg and Garet's former partner Butch Polebag. He would lose after his partner Garet was pinned after a Samoan Drop off the top rope by Butch.
At T.Y.S.O.N (31) Reckless Rebirth, Andreas would defeat Road Dogg and win the T.Y.S.O.N World Championship in the main event. During his reign, the company would changes its name to New-NAW and the name of the championship would been changed to the New-NAW World Championship.
Winning back the Championship
Biff Andreas would compete in a few matches on Velocity, notably Butch Polebag would score an upset victory on the champion after he pinned him in a tag match, earning him a Tag Title shot with the partner of his choosing. Andreas would eventually be scheduled to defend his World Championship against Larry It, who would inexplicably be attacked before his match by Big Show, whom Biff was feuding with at the time in New-WWE. Big Show would take Larry It's spot in the main event and win the New-NAW World Championship.
Biff Andreas would compete in the New-NAW One Survivor Tournament 2013, but come up short when he was eliminated from the tournament in the First Round by Raven on Mayhem 2. In the main event of Mayhem 5, the champion Big Show and Matt Eichorn fought Biff Andreas and Larry It in a tag team match to determine the number one contender or contenders to Big Show's championship. Biff Andreas and Larry It would pick up the victory, making the main event to New-NAW Hardcore Impulse a triple threat. If Big Show's team won, the main event for the CPV would have been Big Show vs Matt Eichorn for the title instead.
At New-NAW Hardcore Impulse, Biff would regain the New-NAW World Championship defeating Big Show and Larry It in the main event under Ladder Match rules.
Earning the Roster's Respect; Defending the Championship
Biff would go on to defend his championship against Larry It, one of the men he defeated to win the title. The storyline behind the title match was that Larry It was on the top of the card in 2009 when Biff Andreas joined the original NAW, and at that moment in time Biff Andreas was on top while Larry It believed he still had the "torch". Biff Andreas was fighting to earn Larry It's respect as well as retain his title.
In an attempt to prove that Biff wasn't ready to represent the company, on the Mayhem before Caught in the Crossfire, Larry It arranged for his opponent to challenge CAW Legend Bret Michaels in the main event. Despite a valiant effort, Biff would lose the match. He was then forcibly thrown out of the ring and verbally assaulted by Larry It after his bout with the legend.
Biff would go on to retain his championship against Larry It in the main event at New-NAW Caught in the Crossfire, where Larry It acknowledged his respect for his opponent as the show ended.
The champion would then go on to defend his championship against "The Alpha-Male" Monty Brown, who defeated former world champion The Big Show in order to earn his number one contendership for the title. When it was finally time for the bout between the two competitors at New-NAW New Found Glory, Monty Brown and his manager Shane McMahon would turn heel. Shane would call Biff Andreas a paper champion, and that he should surrender his championship or else Brown would "rip him apart, piece by piece".
Biff Andreas would defeat Monty Brown, overcoming the odds and retaining his World Championship.
Losing the Championship; Attempted Murder Victim; Feud with Shawn Dynasty
After Biff's two title defenses, he would become the target of Matt Eichorn who was injuring people who he deemed "washed up has-beens". After injuring The Suspect, interviewer Michael Cole, and defeating Larry It, Biff would grant Matt Eichorn a shot at his title to prevent anybody else from getting hurt.
On Mayhem 17, shortly before his match with number one contender Matt Eichorn, an unknown figure would attempt to run Biff over in the parking lot. The blame went to Eichorn due to his documented violence and attacks on the rest of the New-NAW Roster.
Biff Andreas would lose his championship against Matt Eichorn at New-NAW All Or Nothing.
After losing his championship, Biff would go on to compete in the three day Wrestlefest event, on Day 1 losing to Zach Starr in singles competition and on Day 3 coming short in an Elimination Chamber for the New-NAW World Championship that was eventually win by Tyler King.
After Wrestlefest, Biff Andreas would challenge the new champion Tyler King for his title in a Webmatch. Andreas would be attacked before his match by Shawn Dynasty, who would reveal that it was actually him and not Matt Eichorn who tried to run him over at Mayhem 17.
Dynasty went on to say that everything that Biff Andreas has and had he deserves, and that the Original NAW booking team chose him to be their ACWL World Champion over him.
String of Bad Luck; Heel Turn; Reviving the ACWL World Heavyweight Championship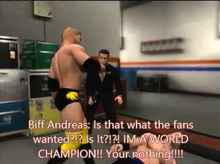 Biff Andreas and Shawn Dynasty would end their near half a decade long feud at New-NAW Aggression, where Shawn would pick up a victory over his former partner in a Number One Contenders match to be added into the triple threat for the World Title at New-NAW Vendetta.
Soon after losing to his former tag team partner at Aggression, he would compete in the One Survivor 2014 tournament defeating Link and losing to Steven Raden via count out. Following his loss to Steven Raden, he would immediately demand a rematch, where he lost to Raden clean.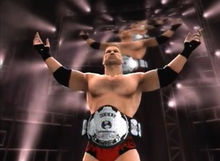 Following this less then favorable outcome he would ask for another chance at Steven Raden, requesting he compete with him at Vendetta. At the event, he would once again lose clean, prompting Biff to attack him from behind later during the night while he was being interviewed, proclaiming that he's a former world champion. After this, he would appear on the sixtieth edition of Velocity in the main event facing off against Steven Raden's partner Andrew Liana. He would defeat Liana, busting him open during the match using unnecessary roughness, after the match was over he proclaimed that the old Biff Andreas was dead and he's not taking the backseat for anybody anymore.
After his match with Liana he appeared on the twenty first Mayhem with the ACWL World Heavyweight Championship that he won four years ago, and said that he's a world champion while Steven Raden will be stuck in the tag division forever because he can't break the glass ceiling. That same night, Link would win the Intercontinental Championship. Biff would go on a delusional tirade, defending his ACWL World Title against the likes of Link and Sagat, both ACWL alumni. During these matches, he would use questionable methods to retain the belt. Such as walking away and taking a count out loss, or losing but having his hand under the rope causing a restart. As a result of those matches, a steel cage match was booked between Biff and Link at Countdown where the only way to win is to beat the opponent clean or climb the cage.
The Bloodline & Injury
During the Countdown event in which defended his ACWL World Title against Link inside of a steel cage, the two fought back and forth, each attempting to climb out the top; Biff would successfully defend his title though after finding a way out the cage door.
On the following episode of Velocity, Biff was made to defend his title on the main event with Tyler King. In the end of the match, enraged at the referee for a slow count, Biff threw him across the ring disqualifying himself. He then proceeded to attack Tyler with a steel chair. He then walked out and celebrated with Danny Jackpot and Zach Starr at the top of the ramp, forming the stable The Bloodline.
At CAWVasion, Biff Andreas accompanied his Bloodline stablemate Zach Starr when he defended his New-NAW World Championship against Norm "The Storm" Dailey.
On the 23rd Mayhem, Steven Raden competed in the main event against Shawn Dynasty, where a shot at the ACWL World Championship was on the line. Steven Raden pleaded with Biff Andreas to allow him a chance to compete against him after losing his Intercontinental Championship against Cesaro on the 71st Velocity. Biff commented that he couldn't hold on to the championship that he already had, so why should he grant him a World Title shot. He then said that if he could defeat Shawn Dynasty who was the number one contender, he would grant him a shot at his title and the championship match at The Final Chapter would become a triple threat. During said match, Biff would attack Shawn Dynasty causing Steven Raden to lose via disqualification. Danny Jackpot would come out and announce that Steven Raden will indeed be competing for the ACWL World Championship at the event.ch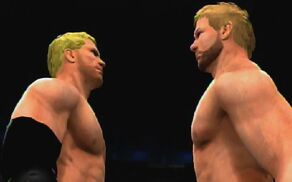 At The Final Chapter, Biff Andreas retained his ACWL World Championship against Steven Raden and Shawn Dynasty with assistance from Danny Jackpot. In the first CPV of Season 2, Biff Andreas along with Zach Starr would be defeated by Shawn Dynasty and Tyler King at King of the Teams in a Street Fight. At Anarchy II: The New Beginning, Biff Andreas would be defeated by Steven Raden in a one on one rematch from The Final Chapter, ending his four year reign as ACWL World Heavyweight Champion. On Mayhem 27, Biff enacted his rematch clause against Raden for Hardcore Impulse II, requesting a Tables, Ladders, and Chairs stipulation. Following a heated confrontation, Steven Raden would accept the match stipulation, claiming that he would shut Biff's mouth once and for all.
Return from Hiatus; 3rd New-NAW World Title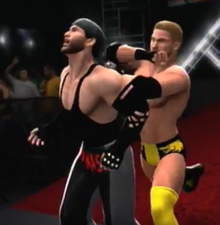 Following a two year hiatus, New-NAW would return and Hardcore Impulse II would occur with a different card. At the event, Biff would win the New-NAW World Championship for a record third time after winning it inside of an Elimination Chamber. Biff Andreas would proceed to feud with Shawn Dynasty, trading wins with him in various Extreme Rules matches. Andreas and Shawn would attack each other before matches and distract each other when in-ring with other matches.
Biff would successfully defend his championship against Dynasty twice, once at Chapter 1 and at Chapter 2 in an Extreme Rules match and an I Quit match respectively. At Page 9, Biff would go one on one with XtremeTony in a non-title match and lose following a Padre Poppa.
XtremeTony would be in a match with Larry It the following week. Biff would interfere, giving Larry It the advantage allowing him to win. In the rematch, Tony would defeat Andreas again, hitting him with the Padre Poppa on the steel steps. At Chapter 3, Biff would take his championship and walk away, retaining via count-out since belts can only change hands via pinfall or submission.
At Page 13, Biff Andreas defeats XtremeTony clean with the Wave of the Future. At Chapter 4, XtremeTony would defeat Biff Andreas to win the championship.
Former Vivianverse Leagues
Debut; Feud with Ryan ReX (2009)
Biff Andreas had made his debut in New Age Wrestling after winning a 6 Man Battle match in the Pre-Show of NAW Emperor Rule, where the winner received a contract. He had last eliminated Ryan Rex to win the match, although Ryan Rex lost the match he and Toxicosis were hired afterwards. For the next several weeks, Biff and Ryan Rex had begun a feud by facing off against each other and each getting separate wins on different occasions. Eventually, they had faced off in their second Pay Per View in NAW All Or Nothing, which ended up as a loss for Biff after the Special Referee Toxicosis had attacked him. Allowing Ryan Rex to get the pin. As NAW International Invasion was announced, he was later announced on the card to wrestle against Ryan Rex, Toxicosis, and Peter Griffin for a chance to win the new NAW Television Championship. Biff lost a tag team match against Ryan ReX and Shawn Dynastywhere the losing team gets sent to DCO.
Heel turn; NAW South
After a 3 months absence from CAW, Biff Andreas makes a very unexpected return to New Age Wrestling under its NAW South brand with a new gimmick and theme to boot. He received a contract after Gangrel announced him as a surprise entrant in a battle royal last eliminating Jerry Atric. They proceeded to feud, in a notable match Jerry Atric and Biff were scheduled to team up against Men In Black in a Tag Team Match but Biff couldn't compete due to "Medical Issues" so it was turned into a Handicap match. During the next NAW CPV Anarchy, Biff defeated Jerry Atric in a Metal Ring match. Biff became a Free Agent after NAW would end on June 9, 2010.
Intercontinental Champion; Team ACWL and World Title reign
During NAW Final Countdown, Biff recieved another NAW Television title shot to no prevail. However, due to Guile being missing and not being able to compete, Biff was made a last minute replacement in the NAW Intercontinental title match where he won his first major singles championship. After the match, he revealed that his un-scheduled appearance was due to his new allegiance with Team-ACWL. Biff would go on to hold the NAW Intercontinental Championship for 185 days; the longest reign on record. He would drop his championship to Matt Eichorn at New-WWE/NAW Royal Rumble 5. On the 2nd episode of NAW Static, Biff turned babyface by turning on Allan Caeser; tossing a steel chair into the ring and allowing Shawn Dynasty to retain his ACWL World Heavyweight Championship. On the 3rd episode of NAW Static, Shawn Dynasty announced his plans to defend his ACWL World Heavyweight Championship against Biff at New-WWE/NAW WrestleMania VIII. At Wrestlemania VIII, Biff defeated Shawn Dynasty to win the ACWL World Heavyweight Championship.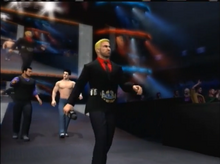 In a surprise swerve at the end of New-WWE/NAW WrestleMania VIII, Biff turned heel again when it was revealed that Biff and Shawn Dynasty were both working for Allan Caeser for months. Biff and Allan hatched a plan two months prior that had the fans, Bret Michaels, and everybody else believe that they were having a fued with each other. It was all a clever hoax to fool GM Bret Michaels so he would allow Biff to have his match with Shawn Dynasty.
On April 13, 2011 it was reported that Biff Andreas had signed a contract with World CAW Wrestling (WCW). On WCW Worldwide Episode 5, Biff made his debut by defeating JTG. During the WCW Brand Split, Biff was drafted to Thunder.
On the first episode of Thunder, Biff would talk about his hopes on the Thunder brand, but he was suddenly attacked by DDP and dropped by the Diamond Cutter. On the second episode of Thunder, he would challenger and fail to win the WCW Television Championship aganst Steven Spriter after an interference by Diamond Dallas Page. Biff would then challenge DDP to a match at Sin, which DDP won. Biff Andreas would dominate the match at Sin, and could have won the match. However, Biff continuously beatdown DDP for his attacks on Andreas, which gave DDP an opening to hit the Diamond Cutter on Biff and win. WCW would seemingly close down following this.
However, WCW would return, with Biff not involved.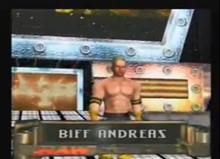 On IWT Pass Out Episode 2, Biff faced Kenzo Suzuki for the IWT World Heavyweight Title, and won following a Cash Out from Danny Jackpot , who was the special guest referee but afterwords, Biff lost the IWT World Heavyweight Title to Oshujax. Shortly after, Biff and his three teammates Danny Jackpot, Black Shawn Dynasty, and Waluigi had won the IWT King of the Quads tournament.
As of the 5th of October 2011, Biff Andreas was officially signed to a IWT Contract.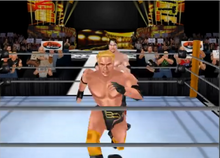 Developing Futures Wrestling

:
Biff Andreas made his debut in DFW on DFW Overdrive #1 defeating Steven Santos following a Wave of the Future counter to the DEFCON 1. Biff began to celebrate but Santos would attack him from behind with a lead pipe, busting him open and finished him off with both a SpriteNation Bomb and a DEFCON 1, Following this, Biff was called up by RSW staff to jump up to RSW during DFW's hiatus.
On the first episode of EDF Wrestling, Biff teamed with his mentor Danny Jackpot to face The Frontline (Evan O'Shea and John Blackrose) for the EDF World Tag Team Championships, where they came out victorious.
The following week, it was annouced that Biff and Danny were in the Elimination Chamber match at EDF Collision, but first, they had to defend their titles in an open challenge on EDF Wrestling Episode 2 which was accepted by James Blazer and Evan O'Shea. Danny's World Title aspirations got the best of him, as he turned on Biff during their tag title match costing them the Tag Team Titles and turning Biff face.
At EDF Collision in the Elimination Chamber match, Biff came up short despite coming very close to being the EDF World Heavyweight Champion. On EDF Livewire Episode 4, Biff lost to Jackpot and Edward Cullen in a huge main event tag team match-up teaming with Brent Harvanator .
At EDF Leather Lottery, Biff Andreas despite an inspiring performance would come up short in a singles match with Danny Jackpot. Soon after, the GM Emily O'Shea would confirm off-screen a rematch between the two at EDF Livewire 6 under Extreme Rules.
Biff Andreas would be released from his contract on April 10th, 2013.
Other Leagues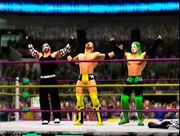 Biff Andreas made his debut in the 30th Episode of Omega Pro Wrestling in a six man tag match teaming with Jeff Hardy and John Depp to take on The Crusade and Chris Jericho. Biff would win the match for his team by making Joe Omega submit to his Monkey Wrench submission hold.
Return; The Bloodline & Los Ingobernables de Japon (2018)
In May 2018, Biff made an OPW return as a mystery partner for AJ Styles, taking on Samoa Joe and Tetsuya Naito. AJ Styles would pick up the win for his team pinning Naito with a Styles Clash. On the following Warzone, John Cena the general manager, announced that the main event for the following week would be The Bloodline vs Los Ingobernables de Japon. During the OPW draft, Biff Andreas would get drafted to Soundwave by general manager Brie Bella. Later in the night, Bloodline would lose to LIJ after Andreas submitted to EVIL's Banshee Muzzle submission finisher.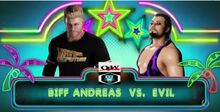 On the next show, Andreas would choose to take on EVIL in an unsanctioned match despite being injured by him and being medically uncleared to compete. During the contest, Andreas' injuries were just too much for him to bare and EVIL made short work out of him, once again making him submit.
Andreas would be confronted backstage by Tetsuya Naito, who would tell him that EVIL would finish him off in their rematch. During their match, Biff would defeat EVIL pinning him after a Wave of the Future. Danny Jackpot would defeat Tetsuya Naito in a match where the winner would decide the stipulation for the Bloodline vs Ingobernables rematch.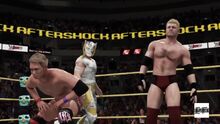 There would be a confrontation in-ring between Andreas and Naito, where the former revealed the group's match type decision, a 6 man elimination tables match at OPW Phoenix Burning. The Bloodline would win that match, putting all three members of LIJ through tables. Andreas would main event OPW Aftershock in a rubber match with LIJ. Zach Starr and Danny Jackpot would be attacked backstage, so their replacements would be "the rainmaker" Kazuchika Okada and White Panther II. Biff's team would win after pinning Naito with a Wave of the Future.
OPW would revive the New-NAW One Survivor tournament, changing it into a round robin tournament like the G1 Climax. In Biff's first match of the tournament, he would defeat Orion. Biff wins his block, taking on Tetsuya Naito who won the B block in the finals at OPW Liverpool Gauntlet in a ladder match for the vacant OWGP Classic Championship; Biff would lose. Biff would receive another chance at the title at OPW Industrial Poison, challenging Naito for the title in a triple threat that included Kazuchika Okada, who Naito could not beat in the tournament. Although Biff would score a pinfall elimination over Okada, he would once again be pinned and defeated by Naito.
At OPW Fatal Fourtune 2, Biff will receive his last and final world title opportunity against Tetsuya Naito. If Biff loses, he won't be able to receive another shot at the title so long as Naito continues to be champion. Unfortunately, he would lose again after a match that included a flaming table spot.
Heel Turn; The Industry
Shortly after, Biff Andreas and Danny Jackpot would defeat the White Panthers to win the Soundwave brand's
tag team championships; Bloodline member Zach Starr would also hold the championship under the Freebird Rule. After holding the belts for a month, Danny would begin a feud with Joe Omega. In a shocking turn of events, Danny and Starr would defend the belts against Joe Omega and his mystery partner, Biff Andreas, who turned heel joining Joe Omega's Industry stable. Biff Andreas and Joe Omega would defeat Starr and Jackpot, beginning Andreas' second tag team title reign.
Following Biff's betrayal of his Bloodline stablemates, general manager Brie Bella would punish Biff by forcing him to challenge Brock Lesnar at the following CPV, where he would receive a vicious assault from the former UFC Heavyweight Champion. However, after some quick thinking, Andreas would take the fight into the backstage arena and into the parking lot. Lesnar and Andreas would climb on top of a giant truck, and Lesnar would be thrown off landing on the concrete below, allowing him to climb down and get the pin.
On September 9th, 2018, Biff Andreas would make his XGWL debut after competing against Aussie Andy in WCDL, XGWL's developmental league. Despite suffering a loss following an Aussie Slam, commentator XtremeTony would say that it was an impressive debut. Soon after he would face the likes of the also debuting Joe Omega, Wild Bill, and Air Wolf.
Biff would pair up with Blue Star and Jacob Gutierez in 6 man tag competition and Sean Fate in various tag matches before settling with Joe Omega, his fellow Industry stable member from OPW. Together Biff and Omega would defeat WCDL pairings such as Wrath & Sefa Fumatu and Quintin Caldwell & Tim Rage collectively known as Viking Rage. After these tag team victories, Biff and Omega would sign up for a WCDL tag team tournament.
Special Appearances
Biff had made an appearance in DCWL, in a #1 Contender match for the DCWL Cruddyweight Championship against Rick Astley. The additional stipulation was the loser got fired, which he lost. Biffs' second appearance was a Fatal Four Way for the DCWL Hardcore Championship that included Danny Jackpot, El Jefe, and then Hardcore Champion James Bond. Biff had won the match to win his first ever singles Championship. Biff had defended it against Ed Kewl in the CPV, but Pizzi had power-bombed him and pinned him due to the 24/7 rule.Biff Andreas fought at DEC Mania for the DCWL Hardcore title where if Biff lost he would have to leave DCWL for good. Well when Biff Andreas was fighting at time champ Abyss they both got attacked by Biff's former tag team partner Shawn Dynasty and Shawn would pin Abyss thus winning the title and then pin Biff Andreas thus kicking Biff out of DCWL.
During the preview show, Biff had a heated argument with Suspect that resulted in him getting beaten down. This caused GM Danny Jackpot to make a match for the 1st episode. Biff had also jumped off of the titantron and attacked Bret Michaels, accusing him of running over El Jefe.
CAW Clusterfuck
Biff Andreas took part in the second Clusterfuck Rumble, entering at number 10. He would eliminate SpongeBob McHanson and Sultan Shetty, before being eliminated by Lemarcus Carter and Gregory Black. During the match, his presence annoyed commentator Homer.
CAWllision
Biff was confirmed to be on the card of CAWllision 4 where he reunited with his old partner, Shawn Dynasty to take on another reuniting tag team, Platinum Age. Biff and Shawn would lose to Platinum Age at Cawllision 4. Biff Andreas would then be scheduled to appear at CAWllision 5 where he defended his NAW Intercontinental Championship against Caylen Rogers. Biff defeated Caylen with ease, but afterwords was defeated in a parking lot brawl by Fred Durst. As of July 16th 2011, it had been confirmed that Biff Andreas will take on Mason KroniK at CAWllision 6. The stipulation says, if KroniK loses, his soul will be destroyed. At CAWllision 6, Mason KroniK defeated Biff.
Biff Andreas competed in the 2013 War Games Torneo Caballo tournament along with his friends and Sons of Liberty teammates, Tyler King and Danny Jackpot. They would be eliminated in the First Round after challenging and losing to Kenshin, Rurouni Mutoh, and Hiro Nagasaki of Team Japan. Shawn Dynasty was originally booked to be in the match with Andreas and Tyler King, but was unable to make it to the event.
Personal Life
Outside of the ring, he is close friends with Danny Jackpot and his family, Shawn Dynasty, Joe Omega, Al Cabrera, and others.
In Wrestling
Finishers and Signature Moves
Wave of the Future (Wrist-Clutch Fisherman Buster)
The Monkey Wrench (Crossface/Scissored Armbar Combination)
Shadow Step (Superkick) (OPW Finisher)
Side Slam Backbreaker
Frankensteiner
Running Frankensteiner
Multiple Spinebuster variations
Full Nelson Slam
Standing Shiranui DDT
Belly to Back Wheelbarrow Facebuster
Monkey Flip
Diving Knee Drop
Double Arm DDT
Arm Wrench into Clothesline or Hook Kick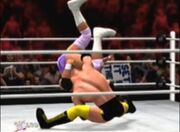 Bold: Finisher; Italic: Signature Move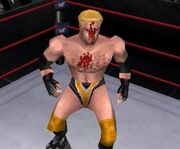 Championships and Accomplishments
XGWL

4x XGWL Men's Live Championship (Current)
Elite Dynasty Federation

1x EDF World Tag Team Championship - with Danny Jackpot (1x) (First)
New-DCWL

1x New-DCWL Maple-Leaf Championship (Final)
Omega Pro Wrestling

2x OWGP Tag Team Championship w/ Danny Jackpot, w/ Joe Omega (Current)
1x OPW Money in the Bank Holder
Match of the Season Award (2018): Biff Andreas vs Tetsuya Naito - Ladder
Faction of the Season Award (2018): The Bloodline
Match of the Decade Award: Biff Andreas vs Tetsuya Naito - Ladder
Faction of the Decade Award: The Industry
Feud of the Decade: Biff Andreas vs Danny Jackpot

WWC

WWC World Championship (1 time)
WWC United Kingdom Championship (2 times)
WWC Tag Team Championship (2 times) w/ Danny Jackpot
Awards and Other Accomplishments
The Vivianverse ranked him #9 of the best 10 tag teams in The Vivianverse Top 10 in 2010 (w/ Shawn Dynasty)
The Vivianverse ranked him #12 of the best 50 singles wrestlers in the The Vivianverse Top 50 in December 2011
The Vivianverse ranked him #22 of the best 50 singles wrestlers in the The Vivianverse Top 50 in July 2012.
Year
Award
Category
Result
2009
SMF Forums CAW Awards
Underated CAW Superstar of 2009
Won
2010
Something CAWful 2010 CAW Awards
Best Finisher
Nominated
2011
Something CAWful 2011 CAW Awards
Best Finisher
Won
Most Improved CAW
Won
2012
Something CAWful 2012 CAW Awards
Most Improved CAW (w/ Tyler King)
Tied
Match of the Year (w/ Evan O'Shea;New-WWE Over the Limit 4)
Won
Match of the Year (w/ Evan O'Shea; New-WWE Survivor Series 3)
Nominated
2013
Something CAWful 2013 CAW Awards
Match of the Year (w/ Danny Jackpot; New-WWE Summerslam 8)
Won
Best Feud/Story (w/ Danny Jackpot)
Won
Best Original CAW
Won
Luchas de Apuestas
| Wager | Winner | Loser | Location | Date |
| --- | --- | --- | --- | --- |
| Title & Chest Hair/Hair | The Ladies Man | El Jefe | Jeri-MAX Ooze | February 1st, 2016 |
Nicknames
"The Wave of the Future" (2018 - Current)
"The Ladies Man" (2008-2010, 2014 - 2015)
"The King of the Jungle" (2011 - 2012)
Entrance Themes