Joshua Bishop
"The Main Attraction" Joshua Bishop
Birth name
Joshua D. Bowers
Born
January 26, 1983 (age 32)
Mobile, Alabama
Resides
New Orleans, Louisiana
Professional wrestling career
Ring name(s)
Joshua Bishop
Oshujax
Ashtray
Oshu Jackpot
Height
6 ft. 10in.
Weight
330 lbs.
Billed from
New Orleans, Louisiana
Trained By
Brent Delivine
Cannon Wrestling Academy
Danny Jackpot
Keith Connor
Smokey
Debut
2007
This article is about Oshujax, CAW Wrestler & Commentator. For the commissioner of Oshujax's SvR07 stream, see
Josh Bowers
.
| | |
| --- | --- |
| | This is a featured article; it (or a previous version of it) has been identified as one of the best articles produced by the Wikia . |
"Fuck You!" - Very wise words from Oshujax
Joshua D. Bowers is a CAW professional wrestler, better known by his ring name Oshujax. In 2013 Bowers would retire the Oshujax moniker to wrestle under the name Joshua Bishop. Bowers made his in ring debut in 2007, wrestling under the name Ashtray. To this day, Bowers is a eight time World Champion (AOW, GWA, HCW, IWT, WEDF, New-TNA, CoC), a twenty-two time Hardcore Champion (OCL, WEDF, NAW, IWT), a four time Mid-Card Champion (three time OCL Intercontinental Champion & one time WEDF Intercontinental Champion), a six time Tag Team Champion (as a part of The Masters of the Attitude Adjustment with Keith Connor in NESE, Chris Johansen in NAW, Danny Jackpot in WEDF, Matt Eichorn and Devil Goat in IWT as a part of Parental Guidance and Project Devil Iconic respectively, and as a part of The Alabama Boyz with Smokey in GWA), and a one time IWT Legends Champion. Bowers was a Quadruple Champion in the Vivianverse, as he previously held the WEDF Intercontinental Championship, the NAW Tornado Tag Team Championships, IWT World Heavyweight Championship and the TNA World Heavyweight Championship at once. He is mostly known for his commentary and for his tenure in WEDF, where he went on to have the longest single-title reign in WEDF history as the Intercontinental Champion for 560 days.
Independent wrestling career
Oshujax worked in multiple underground indy leagues wrestling under the name and gimmick of Ashtray. Ashtray was a failed attempt at a parody of a John Cena ripoff mixed with Batista, Triple H, and Jeff Hardy. Even though he had success in the ring, he was not received well by the audience. Because of this, Ashtray stepped out of the spotlight and re-emerged as Oshujax months later. Danny Jackpot would keep in touch with Oshujax and become non-kayfabe friends with Oshujax, as Oshujax would help Jackpot start a side project known as the Online Caw League (At the time, Jackpot had been retired from GWA.)
Online Caw League
First Major Appearance
On December 2008, Oshujax would make his OCL debut, defeating a wrestler named Javori. Oshujax would soon face Danny Jackpot in a Hardcore match to determine who would go on to get a shot at the OCL Hardcore Championship. Oshujax would lose and be entered into a tournament, where the winner would face Danny Jackpot for the Hardcore Championship. In the first match of the night, Oshujax would defeat Jayden "Enzuiguri" Angel and advance to the semi finals to face Javori once more. Again, Oshujax would defeat Javori and move on to the final round, in a rematch against Danny Jackpot. After his second loss to Jackpot, Oshujax soon called Jackpot's win a fluke, thus making him a Heel in OCL. Jackpot stated that Oshujax was not worthy of the OCL Hardcore Championship, as this irritated Oshujax to the core. On the next show, Oshujax would defeat "Ballistic" Bryan Deas with little effort, as he would attack the Hardcore Champion later on in the night after he defeated Javori for the Hardcore Championship. Oshujax demanded for a rematch after this attack. A rematch was scheduled for OCL's first Pay Per View, Cash Out, in a Hard Wood Match, requiring a competitor to put their opponent through a wodden table before pinning to win the match. The next show before Cash Out, Oshujax was placed into a 15 minute Ironman match with Javori, escaping with a narrow victory in the last five minutes of the match. At Cash Out, Oshujax finally defeated Danny Jackpot for the Hardcore Championship, and gave Jackpot his first loss in OCL. Oshujax lost to Danny Jackpot in a rematch for the Hardcore Championship on the Mayhem following Cash Out.
Shortly following his loss to Danny Jackpot just five short days after beating Jackpot for the Hardcore Title, Oshujax shifted his attention over to the Platinum Championship picture. In his Platinum Division debut, Oshujax defeated the Contract In The Case holder, Aaron Rogers. After news spread that the former Platinum Champion Klesh had dropped the belt, Oshujax has been considered a strong contender in the fight to determine the new Champion. Oshujax was immediately placed in a match against HellSpawn for the Platinum Championship on the next Mayhem. He would lose this match. Oshujax was in a Triple Threat match featuring newcomer Jaws and Danny Jackpot. While Jackpot would go on to win this match, Oshujax received a draw out of this match because he was not the one pinned.
Following this, Oshujax was told to draw a number out of a hat to determine his opponent and the type of match. Lucky for him, he drew the number that got him a Hardcore Title shot against then champion Javori, a man he has beaten time and time again. He faced Javori on this Mayhem and defeated him for the fourth time to capture the OCL Hardcore Championship for the second time. The folowing week, Oshujax would once again lose the Hardcore Championship to Danny Jackpot, this time in a battle royal also involving former champions Javori and Aaron Rogers. Oshujax took out everyone but Jackpot by himself. Due to an ongoing dispute about Danny Jackpot being a Champion in OCL, Oshujax has been given control (non-kayfabe) of OCL in terms of booking until Jackpot should lose the Hardcore Title.
The True Icon/Face Turn
A week after his second reign as Hardcore Champion was once again abruptly ended, Oshujax was assigned to play the role of a special enforcer in Danny Jackpot's first title defense of his third reign, as he would put the belt on the line against Aaron Rogers. To everyone's surprise, Oshujax came out with a slightly new attire and new entrance, as he called himself The True Icon under his new gimmick, Oshu Jackpot. (Earlier in the night, Oshujax came out dressed as Oshu Jackpot, but had not been announced as so, though to some fans, it was obvious, since Oshujax won his match with the One Kick KO on Bryan Deas to win in an Extreme Rules Triple Threat match involving Javori.) The match ended after Oshujax interfered and hit Rogers with the One Kick KO, with Danny Jackpot soon locking in the Gambling Addiction to retain the Hardcore Championship. Though Jackpot in particular was not happy with Oshujax's interference, some fans actually liked this new change in The Shaman. Aaron Rogers was unpleased with this interference. As a result, a match for OCL's second pay per view, True Skill, has been made for Oshujax and Aaron Rogers to face off against each other. On the Mayhem before True Skill, Oshujax was successful in defeating The Suspect, revealing a new move similar to Danny Jackpot's Cash Out, called the Cash In. At True Skill, Oshujax defeated Aaron Rogers. On the next Mayhem, Oshujax defeated Aaron Rogers in a Steel Cage, this time with Danny Jackpot and Alex Corona, both of whom were Champions at the time. This was the final match to take place in OCL, as OCL would shortly close down after this match.
OCL's Second Run
At the beginning of the month of June, Danny Jackpot announced that the OCL would be returning. Oshujax, along with many of OCL's old Alumni including The Suspect, Aaron Rogers, and Oshujax's long time rival from OWE, Alex Corona, rallied behind Jackpot and pledged that they would be heading back to the OCL. Oshujax faced off against Alex Corona in the first main event since OCL's return, with the winner facing Danny Jackpot and Aaron Rogers in a Triple Threat match to determine the first OCL Intercontinental Champion. He would lose after a third Corona Splash. Since then, Oshujax has went on to defeat The Suspect for the second time, and the newcomer Voodoo Zombie. The following week, Oshujax faced off against Alex Corona once again, but in a Ladder Match that would determine a new #1 Contender for the Intercontinental Championship held by Danny Jackpot. In what has been declared by many as the greatest match in OCL's history, and the best match in the rivalry between Oshujax and Alex Corona, Oshujax would defeat Corona to become the next man in line to face Jackpot for the Intercontinental Championship. The management of OCL decided to pit Oshujax and Danny Jackpot together in a Hard Wood Tables match, reminiscent to their Hardcore Championship match at Cash Out. But this time, Jackpot retained his Intercontinental Championship against Oshujax.
Intercontinental Champion
On the following Mayhem, Oshujax was a part of a Fatal Four Way match called "The Struggle To Survive" with Alex Corona, VooDoo Zombie, and then-Intercontinental Champion, Danny Jackpot. In a result that many believed to be shocking, Oshujax managed to defeat Corona, Jackpot, and Zombie in the Struggle To Survive in order to capture his first Intercontinental Championship. Unfortunately, he would have to vacate the title due to injury concerns that were later confirmed to be minor. Upon his return, Oshujax would face off against his rival Suspect in what was considered to be Suspect's final match in OCL. It was a #1 Contender's Match for the World Heavyweight Championship. Oshujax would challenge Suspect to a 15 minute Ironman match, which he gladly accepted. Oshujax would defeat Suspect and gain the win, but this match would also mark a rare occurence where Suspect would pin Oshujax to gain one fall. Due to the rules of an Ironman match, however, it was still respected that Oshujax was undefeated against Suspect. The next week, Oshujax faced both World Champion, Danny Jackpot, and Intercontinental Champion, Aaron Rogers. The stipulation stated that if Oshujax beat either man in the match, he would take the belt of the man he beat. Oshujax managed to capture the Intercontinental Championship after forcing Aaron Rogers to submit to his own finishing move, The Firing Squad. A week later in their rematch, Oshujax retained his Intercontinental Championship after making Rogers submit to The Firing Squad once again. For the third straight week, Oshujax defeated Aaron Rogers following The Descent From Decadence in a Triple Threat match also involving Voodoo Zombie. After a six match winning streak, Danny Jackpot would be the one to break it after beating Oshujax with The Final Bet in a Champion vs. Champion Main Event.
Oshujax successfully defended his Intercontinental Championship against Bryan Deas following that loss. The following week, he lost in a Triple Threat once again featuring Danny Jackpot and Aaron Rogers. After defeating Voodoo Zombie once again, Oshujax finally made his OCL Pay Per View return, facing off against Aaron Rogers in a World of Wood match at Brawl In Brooklyn for the Intercontinental Title. Oshujax retained his title for the third time, then lost in a Non-Title match up with the World Champion, Cosmic. After a squash match against Bryan Deas with Oshujax picking up another win, he finally lost his Intercontinental Championship to Aaron Rogers, in a Triple Threat also featuring "The Polish Hammer", Grizzly Redwood.
Soon after that, it was revealed that the last Mayhem card for OCL would be coming up. Oshujax did not participate in any of the final Title Matches for Mayhem, due to the fact that he had been under heavy re-negotiation with OCL Management concerning his contract. He made his return on the first edition of the new primetime show, Voltage, where he would fight in a losing effort to Cosmic. The following week, Oshujax defeated Grizzly Redwood, and then re-captured the Intercontinental Championship for the third and final time in a Tables, Ladders, and Chairs match against Aaron Rogers. The Intercontinental Championship would then go defunct, as the Platinum Championship would be reintroduced.
Death of OCL
Oshujax's last few matches in OCL all involved World Champion Cosmic, as Oshujax had been in heavy pursuit of the World Championship at that time. Cosmic had screwed both Oshujax and Danny Jackpot out of the World Championship. Eventually, OCL would finally be put to rest.

Online Wrestling Entertainment
Danny Jackpot, along with other people, decided to rebuild OCL from its ashes once Jackpot decided to quit GWA. Jackpot got in touch with Oshujax and invited him to wrestle in his newly rebuilt organization, OWE. Oshujax accepted and was placed on Jackpot's brand of Mayhem, along with former Platinum Champions Chris Ravenheart (also known as HellSpawn) and Alex Corona. In his OWE debut, Oshujax was in a Triple Threat with Danny Jackpot and newcomer Terell Livingston, as he returned to Mayhem as The Shaman. Oshujax did not pick up the win (Jackpot won this match), but he was not pinned. A week later, a tournament started between the OWE Superstars to determine an OWE Champion and a new Platinum Champion. Oshujax won his first round match after hitting a standing Muscle Buster on Alex Corona, pinning him decisively in a Triple Threat also involving another newcomer, Blake Rodgers. Oshujax then defeated El Turtle in a Steel Cage match to receive a chance at becoming the OWE Champion, and faces K9 in a Ladder Match for the OWE Championship at the first Pay Per View. On the next Mayhem, Oshujax suffered a loss to Chris Ravenheart, which Oshujax responded by destroying Ravenheart and sending him out of the arena on a stretcher. At OWE's first PPV entitled The Duel, Oshujax was screwed out of his Main Event match, thanks to a backstage sneak attack courtesy of Alex Corona. When Oshujax called him out for it though, Corona denied doing so. Later on in the night on the next Mayhem, Oshujax and the new Platinum Champion, Brockenman, were defeated by Corona and Joseph "Dice" Guerra.
The next week, Oshujax appeared for Friday Night Fury's 50th episode, losing in a Tag Match with Alex Corona as his partner, against the team of Dustin Skyfire and the returning Christopher RavenHeart. He then defeated newcomer O'Zar in a Tables Match. Oshujax now faces Corona and Brockenman in an Elimination Tri Tables Match at Salvation Sunday for the Platinum Championship. The stakes were then increased as neither Joseph Guerra or Dustin Skyfire were able to make it to the event for an OWE Championship match, thus making the Platinum Championship match a Double Title match. While Oshujax would go on to put Alex Corona through 2 tables and eliminate Brockenman from contention, it was Alex Corona who would claim victory in what many believe to be as OWE's final match.
Xtreme Wrestling Alliance-West Coast
On a special edition of an XWA extra show, Oshujax appeared and wrestled a Tables, Ladders, and Chairs match against Jason Hawkinz. Oshujax would go on to win this match. Oshujax appeared again on ShitDown, wrestling a six man tag match with Hawkinz and "The Local Jesus", Corey Bayne against Extremehoya, Skull, and the Original Champion, AlbinoPenguin. Although Oshujax's team would suffer a loss in this match, Oshujax appeared later on in the night and attacked Bobby Lashley, all while becoming the Nigger Lyncher of XWA. He debuted the \__LYNCHING_/ pose and hit Lashley with the Death Magnetic I, which is now recognized as the Nigger Lynching in XWA. Oshujax represented XWA-WC at CAWllision 2, as he took place in a Fatal Four Way for the WEDF United States Championship against Smokey (XWE), Danny Jackpot (OCL), and Vladimir Kozlov (WEDF). Smokey would win after pinning Kozlov following an Acid Splash.
All Original Wrestling
In one of the first matches that took place to determine three men who would go on to have a shot at becoming the AOW World Heavyweight Champion, Oshujax earned his spot by defeating Javori, Voodoo Zombie, and Smokey in an Elimination Battle Royal. The other two men who earned their spots were Aaron Rogers and Jason Hawkinz. Oshujax would go on to pin Hawkinz to become the first AOW World Heavyweight Champion. On the next show, Oshujax successfully defended the AOW World Championship against Jason Hawkinz in a rematch from the last week. Oshujax's next opponent was one of his old rivals from OCL, The Suspect. The stipulation in their match was that if Suspect won, he would face Oshujax for the World Title on a later date. Oshujax won following a different version of the Death Magnetic I (where he instead used a powerbomb lift, then dropped down for a facebuster.) AOW would close down after that show, making Oshujax the only AOW World Champion for its history.
CAW Entertainment Wrestling
Oshujax has been involved in the CEW organization, due to a merge with another organization. Oshujax has been involved in many matches, notably against RJ & The Suspect for the Light Heavyweight Championship. Oshujax was not considered a legal contender for the Light Heavyweight Championship, which resulted in The Suspect winning the Championship. This was left unnoticed until the last minute. His last match was against Mister E-X (Jason Hawkinz) for the World Heavyweight Championship at Condition Red, in which he was unsuccessful at winning.
Global Wrestling Association
RoC/IAW Split
Oshujax joined the GWA during the time of GWA's split into the Ring of Chaos (RoC) and the International Association of Wrestling (IAW). Oshujax's debut in IAW was against Danny Jackpot, in which Oshujax won. However, Oshujax would soon leave due to a kayfabe injury, but soon returned at the end of the IAW/RoC split, wrestling only three matches. His return match was against Aaron Rogers, a match which Oshujax won. He then faced "The Icon", Noah Gibson, and lost after Gibson locked in his signature Iconic Stretch. His final match was in a Tag Team match with then-IAW World Champion, Dave Jones, against VLK and Jonny D. Oshujax gained the victory for the team, locking in the Dragon Sleeper to secure the victory. He was slated to go against Jones for the World Championship at IAW's final Pay-Per-View, Salvation Sunday, an event which Oshujax had been all too familiar with. However, due to conflicting schedule changes, Oshujax had to drop out of the event.
GWA's Reformation
Soon after, IAW folded and severed ties with the RoC, soon leading to the return of GWA. After the first Primetime, Oshujax would make his debut in the GWA (Many of the IAW and RoC superstars had been a part of the original GWA, of which Oshujax was not), making a promise that no one in the GWA would soon forget his name. He started off on the right track by defeating Nico Fusion twice, on Primetime's second episode, and Fall Brawl III. As Fall Brawl III stands, Oshujax is the only GWA Superstar to have competed in three matches, also defeating long-time rival Alex Corona in their second Ladder Match, and participating in GWA's first and only Eight Man Battle Royal. Oshujax would eliminate Jason Hart, and finish fifth overall in the Battle Royal when Dave Jones eliminated him from the match.
From there, Oshujax had been placed in a chase for the Platinum Championship, which was vacated due to Danny Jackpot's firing from the company. He lost in the first round of the Chase to newcomer Blak Swagger, a loss that had inspired Oshujax to drastically change his look. He re-appeared on Primetime with a new attire, tribally-influenced sleeve and back tattoos, and a noticeable haircut. Oshujax had needed to talk to John Jamison about his "lack of airtime", but ended up running into Patricia Fantastica, Phillipe Fantastico's sister. Oshujax was immediately attracted to Fantastico's baby sister, to which Fantastico took offensively. A brawl broke out in John Jamison's office, as the two men eventually had to be separated. Jamison would then schedule for a match between the two on the same night, and naming himself the special guest enforcer. Oshujax would force Fantastico to tap out to the Cobra Clutch, a move that has become one of Oshujax's trademark finishers. This win would be a driving force behind Oshujax's most successful run in his career to date.
Undisputed Champion
His next match was in a Triple Threat match against Laury Saikkonen and Fantastico, where Oshujax would score the victory by forcing Saikkonen to tap out to the Cobra Clutch, a victory that greatly increased Oshujax's standing in the Undisputed Championship picture. He continued seeing Patricia Fantastica despite Fantastico's constant warnings, as the two had made a connection with each other. Fantastico grew irate at Oshujax's actions, which climaxed in an Extreme Rules match at November 2 Remember. Oshujax decisively finished Fantastico off with the Dragon Sleeper, and then left his mark on Fantastico to finally let out the pent up aggression he had inside of him. Following November 2 Remember, Oshujax had gained key victories that all but ensured him an Undisputed Championship match, defeating Eddy Introspect and Marcus Hook to keep his momentum rolling. Soon, however, Blak Swagger's merciless attack on John Jamison caused concern, as an Interim General Manager would be called in to replace Jamison.
In fact, it was a man that Oshujax had known all too well: Former OWE Champion, and multiple time Platinum Champion, "The Last Warrior", Alex Corona. Corona then went on to talk about Oshujax's career in GWA, trash-talking The Shaman and using jokes on his names, including the infamous "Applejax" remark, to which Oshujax responded by recalling Corona's past matches with Oshujax, reminiscing on Oshujax's biggest wins at that time in matches that involved Corona. In fury, Corona had put Oshujax in a Steel Cage match against Collin Skyfire. It would be Oshujax's first Primetime Main Event match, and it would end in a victory when Oshujax escaped the cage. After forcing Elijah Swagger, the son of Blak Swagger, to tap out to the Cobra Clutch, Oshujax appeared for Presents on Primetime. Oshujax took a present from Santa Claus (who was John Jamison in disguise), only to end up getting his head shaved bald. Later on the in the night, Oshujax would take on Ruben Rashard and Collin Skyfire in a Triple Threat Preview for Valde Bellum. Oshujax would fail to prevent then-Undisputed Champion Ruben Rashard from forcing Collin Skyfire to tap out in a Triple Threat preview of Valde Bellum, but Oshujax did not manage to lose any momentum. After seven straight wins in the GWA, it was time for Oshujax's biggest test.
The Total Annihilation match for the Undisputed Championship at Valde Bellum against both members of the former Star Studded Entertainment, Ruben Rashard and Raze, and the Black Cross Bandits' Collin Skyfire stands as Oshujax's career-defining moment. In this match, Oshujax had been pushed to the limit, busted open with the left half of his face completely covered in blood, and driven to fight like he was going to die the next day. In the end, after managing to finally stop Raze from grabbing the most coveted prize in GWA history, it all culminated when Oshujax would win the Undisputed Championship in his first World Title match, let alone it being his first opportunity at a GWA championship. But Alex Corona was determined to not let "The Shaman" have his moment. Though banished from GWA the next day, for the night, Corona was still in charge. He forced Oshujax to go first in the first ever "Great War" match. Soon, Corona looked to add insult to injury, but Oshujax sent Corona out of the GWA with one very special Death Magnetic into the ladder.
Oshujax's eight match winning streak came to an end when then-Platinum Champion, Laury Saikkonen, managed to avenge his Triple Threat loss in less than three minutes. But right after this match, Oshujax bounced back by becoming the first Undisputed Champion to have successfully defended the Undisputed Championship, while also being the first one to do so in a normal match. His opponent was Damian. To date, Oshujax sees Damian as one of, if not THE toughest opponents to keep down in the GWA. During these two matches, Oshujax had been irate at the fans who had not given him the proper respect after Valde Bellum. The past came back to revisit Oshujax, as he would revisit the Triple Threat match he had between Laury Saikkonen and Philip LeDuke, the man formerly known as Phillipe Fantastico. This time, Oshujax would force LeDuke to submit. Unlike the last Triple Threat, however, both LeDuke and Oshujax had more momentum in this match, although Oshujax would mainly keep control over the match.
Pursuit of the Tag Team Championships; The Alabama Boyz; Feud with Collin Skyfire
The Shaman would then set his sights on Battle Hart's open challenge for the Tag Team Championships. He and Collin would put their Tag Team Titles on the line against any two men. Oshujax took on the challenge, but did something that no one would expect him to do: Confront Blak Swagger and ask him to be his partner. It was a risky move, but in the end, Swagger accepted Oshujax's offer, but only to "break Battle Hart's neck." They would take on the Black Cross Bandits inside a Steel Cage, and in Oshujax's hometown of Mobile, Alabama. The two would be in tag team action twice, losing in both efforts, first to Ruben Rashard and Battle Hart, and then at Collision Course inside a Steel Cage. At Collision Course, Oshujax defended valiantly against Swagger, but in the end, after the third Lethal Demise from Swagger, Oshujax could no longer kick out and fight, giving Swagger the win. After Collision Course went off the air, Oshujax sent out a heart-felt apology to the Mobile crowd. He apologized to both Damian and John Jamison, and apologized for his hostile actions toward the crowd.
Soon after, it was revealed that Oshujax's long time friend and tag team partner, Smokey, had signed a contract with the GWA. The Alabama Boyz would reunite and be entered into the Lethal Lottery tournament. They won their first round match against the team of Philip LeDuke and Nicholas Flash after Oshujax forced Flash to submit to the Cobra Clutch. GWA's second Beat The Clock tournament was the next chance Oshujax would get at getting another Undisputed Championship match. His opponent would be Alex Blair, but Blair would receive a default victory due a vicious backstage attack that would keep Oshujax out of action the following week. However, Oshujax still showed up, responding to Collin's disrespectful attack, but instead of vilifying Collin for his actions, Oshujax tried to convince Collin that Battle Hart had been playing him for a puppet. Collin came out and denied all accusations that Oshujax made toward him, but when it was all said and done, Collin would leave the ring in complete confusion. The cheers of the fans and Oshujax's honest words seemed to reach out to Collin...
In the semi-finals of the Lethal Lottery tournament, Oshujax was back in action, as he and Smokey would go on to defeat Platinum Champion Killergoth and Xcalibur. In this match, Oshujax would avenge his loss to Killergoth, forcing him to tap out to the Cobra Clutch for the second time. After this match, Oshujax continued to try and convince Collin Skyfire that what he had been doing with Battle Hart was wrong. In support of his words, Oshujax promised to sit at ringside and cheer for Collin as he would take on VLK. To his surprise, Collin came out in his old colors, the ones he wore when he was loved and adored by the fans. Collin wrestled a spectacular match against VLK, and appeared to show the sign that Oshujax had been right all along. However, tragedy struck when the Belgian Giant became furious, viciously attacking Collin and knocking him out, before adding insult to injury by breaking Collin's knee with a vicious attack courtesy of a steel chair. Collin had to be escorted out of the arena in an ambulance with Oshujax's promise of an "Alabama Boyz celebration" cut short. Things took a turn from bad to worse when Smokey was forced to submit later on in the night to Xcalibur.
It would be a bittersweet night for the Boyz from Alabama. Oshujax felt remorse for a man he considered his friend. The next week, Oshujax had to focus on the business at hand, soldiering on to calm the tension Smokey had after the referee's decision had caused Smokey to lose an opportunity to get into the Elimination Chamber match set for Mayhem, where the winner would gain an Undisputed Title opportunity. The Lethal Lottery Finals ended on a positive note for the Alabama Boyz, as Oshujax would gain some redemption from the Beat The Clock tournament by forcing Alex Blair to submit to the Cobra Clutch. This win gave the Alabama Boyz the tournament win, and a future Tag Title match against the Black Cross Bandits - Battle Hart and Collin Skyfire. Later on in the night, Oshujax had managed to defeat Raze to get into the Elimination Chamber match for Mayhem. After this match, Oshujax would call out VLK, telling VLK to be careful when it comes to Oshujax. On this night, Oshujax promised to gain redemption for VLK's ruthless attack in honor and respect for his friend, Collin Skyfire.
At Mayhem, Oshujax would manage to put Battle Hart through a Table to capture the Undisputed Tag Team Championship with Smokey. However, his high spirits would soon hit a low point, as Collin would go on to defeat Oshujax in their Extreme Rules match. Oshujax had set Collin up to go through a flaming table, but Oshujax hesitated to follow through, which gave Collin the opportunity to send Oshujax through the fire with a Texas Twister and choke him out. Oshujax would gain redemption in the Elimination Chamber match at Mayhem after eliminating Collin with the Cobra Clutch before being eliminated by Battle Hart with the Battle Bomb. However, Oshujax's next match would see him go one on one with Battle Hart for the first time ever. On this night, Oshujax would gain his biggest upset to date, defeating the leader of the Black Cross Bandits with the Cobra Clutch. Shortly afterward, Oshujax defeated VLK in a Non-Title match on the next Primetime. In the weeks leading up to The Duel, tensions grew between Collin and Oshujax, as Collin continued to call Oshujax the villain in this story, while Oshujax did not believe any of Collin's accusations. This lead to another match between the two men, but with a wager set. If Collin lost, Collin would have to swallow his pride and admit that Oshujax was the better man. However, if Oshujax lost, he would be forced to convert to the Black Cross Bandits' religion. But this would be no regular match: This would be a Last Man Standing match.
The Duel would see The Black Cross Bandits regain their Undisputed Tag Team Championships after Collin forced Oshujax to submit once more, but Oshujax would go on to defeat Collin in their Last Man Standing match, retaining his freedom after finally managing to muster up enough courage to do what he couldn't do at Mayhem: put Collin through a flaming table. While their match went on to be considered a Match of the Year Candidate, both Oshujax and Collin suffered extensive injuries as a result of this brutal and bloody match up. Later on in the night, Oshujax would declare that his next Undisputed Championship match could possibly take place at Revenge after having talked to John Jamison, and promised that he would be back to regain what he once had before. Yet despite Collin's grueling battle with Oshujax, Collin had managed to somehow become the Undisputed Champion in the end.
Final Undisputed Championship run; departure
Two weeks later, Oshujax earned a chance to prove that, as he and Collin's feud slowly heated up now with VLK added to the mix. A Triple Threat match for the Undisputed Championship took place, with the three men battling for thirty long minutes before VLK would finally force Oshujax to tap to the Iconic Stretch. However, Oshujax left with a good bit of momentum for him and Smokey, after The Alabama Boyz would get back on the winning track after defeating Xcalibur and Matt Blaze. Oshujax forced Xcalibur to submit to the Cobra Clutch. The week afterward on Primetime's 150th episode, Oshujax would finally face off against "The Phenomenon" Cody Storm in what fans hailed as a dream match for the ages. Cody would emerge victorious after the Great Leg Lock Finale. Despite those tough losses, Oshujax was able to go on to defeat VLK at Revenge and become a two-time Undisputed Champion; however, Collin was injured and could not compete, leaving Oshujax with a empty void in his heart as he knew that Collin had deserved to be in the match, and he knew that he had not done as the name of the Pay Per View suggested: gain Revenge.
Though he would gain wins over Ruben Rashard and newcomer Pain, Oshujax would end up losing to both Battle Hart and Cody Storm. His match with Storm was for the Undisputed Championship. The Alabama Boyz would also lose their Tag Team Championship match against the Living Legends. This would serve as both Smokey and Oshujax's final appearances in GWA.
Internet Championship Wrestling League
It was revealed on December 31st 2009, that Oshujax had signed with ICWL. The ICWL league would close following this.
Hardcore CAW Wrestling
At HCW Crashdown, Oshujax would make his debut in a #1 Contender's match for the Hardcore Championship featuring Matt Eichorn, Keith Cutler, and the returning Lino. Eichorn would pin Oshujax in this match. The next LiveWire, however, saw Oshujax as the guest host for the night, as Oshujax would go on to announce a special match for HCW Decimation. It was a Feast or Fired Money In The Bank match, where six men would fight in a ladder match for a HCW World Heavyweight Championship match whenever they wanted. From there, the five men left would get either an HCW Intercontinental Championship match, an HCW Tag Team Championship match, an HCW Hardcore Championship match, a Pink Slip which would end a man's HCW Career, or nothing at all. Oshujax placed himself in this match while other Superstars were forced to qualify to earn spots in this match. Oshujax would then appear in a six man Battle Royal for the Hardcore Championship, but lost. From there, Oshujax would make a statement to HCW management and wrestlers alike, stating that he was above the standard of the Hardcore Championship and deserved to be competing for the World Heavyweight Championship, thus causing Oshujax to turn heel in the process.
This statement offended many HCW mainstays, such as former World Champion Osiris and Keith Cutler. Oshujax went on to claim that the Money In The Bank match would be the easiest match for him yet, as he was the 'Greatest Ladder Match Technician In History', and had never lost a Ladder Match in his career. At Decimation, Oshujax would go on to prove that by winning the Money In The Bank match and leaving with the briefcase containing the World Title match. The next LiveWire after that, Oshujax would brag about his title victory, until he was attacked by Keith Cutler and Osiris. On the same night, Jaysin Richardson and then-World Heavyweight Champion Wu Tang Man were told to pick their opponents, as they both picked Oshujax. Following this LiveWire, Keith Cutler and Osiris faced off to determine who would gain the right to face Oshujax at Uprising 2. Oshujax, however, interfered in this match to cause a No Contest finish, forcing owner H.A. Duke to put Oshujax in a Triple Threat match against both Wu Tang Man and Jaysin Richardson, adding in that if Oshujax lost the match, he would have to face both Cutler and Osiris in separate matches at Uprising 2. In that match, Oshujax would be heavily double teamed by Richardson and Wu Tang Man, until Osiris would finally interfere and take Oshujax out of the match for good, leading to Richardson beating Wu Tang Man.
Many thought that Oshujax was done for, until he shocked the entire HCW World by attacking Wu Tang Man after a grueling match against Spectacular. This happened during an HCW house show, as Oshujax would then cash in his World Title opportunity, putting the weakened Wu Tang Man away with the F.T.S. to become the new HCW World Heavyweight Champion. This move shocked many HCW alumni, and left H.A. Duke silenced for hours on end, before H.A. Duke released a statement, saying that Oshujax would defend his World Championship on the next LiveWire against both Osiris and Keith Cutler in a Triple Threat Match. In that match, Cutler would pin Oshujax to capture the World Championship, thus making the "Fiery Inferno" match between Oshujax and Osiris still on. Oshujax and Osiris shared thoughts amongst each other, as Oshujax sounded confident that he was going to be thrown into the fire and flames, but Oshujax claimed that he was not going to go down without a fight - something Osiris understood. In the Fiery Inferno match Osiris would throw Oshujax into the flames.
Shortly afterward, Oshujax was released from HCW due to creative differences. After this, he received a notable honor from the HCW Forums for its End of the Year award show, winning "Feud Of The Year" for his work with Osiris and Keith Cutler.
CAWllision 2
At CAWllision 2, Oshujax would win the WEDF Hardcore Championship.
DCO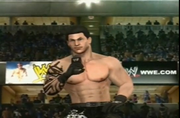 Oshujax would debut on WEDF as a part of the training grounds for WEDF, DCO. He has been in two Battle Royal matches for opportunities such as a shot at the DCO Championship and a spot in the 30 Man Over The Top Rope Battle Royal for WEDF's Royal Reckoning, and was unsuccessful in gaining a victory in either of those matches. His first singles opponent was Caylen Rogers, and this match would end with another loss for The Shaman. His bad streak would only continue on the next DCO, as Oshujax would suffer a humiliating defeat against Gregory Black. Furious with his losing streak, Oshujax decided to take matters into his own hands by demanding an opponent for the next episode of WEDF United from DCO General Manager, Jeff Winninger, as Oshujax would go against Goldust, a current WEDF Superstar. Oshujax had a point to make, and he proved that as he would deliver two F.T.S. finishers and a devastating Spear before putting Goldust away. In that match, Santino Marella attempted to interfere on Goldust's behalf, but Oshujax attacked Santino, eventually forcing Santino to leave running for the back. On the next DCO, Oshujax would go on to get his first win on DCO against Ryan Terian.
On the two year celebration show of WEDF, Oshujax would defeat Larry It, United States Champion Zach Starr, and longtime rival The Suspect for the WEDF Hardcore Championship, just before losing it to the returning Rikishi. The next episode of DCO featured a "Viewer's Choice" style card, where the fans voted on who would face CJ Wizard for the DCO World Heavyweight Championship, and that honor would go to Oshujax. On that episode of DCO, he and Matt Eichorn viciously attacked Rick The Fisherman after his match with Mason Kronik, where Oshujax and Eichorn both revealed that they took out Rick The Fisherman at WEDF's Royal Reckoning. (Rick had won a match to get into the Royal Reckoning; was found unconscious later on in the night.) Immediately following this attack, Oshujax revealed that he and Eichorn had banded together to become the Platinum Age, and vowed that the WEDF was about to be taken over. He also managed to change the stipulations of his DCO Championship match with CJ Wizard to a No-Disqualification match.
In that match, Eichorn would aid Oshujax in a vicious two-on-one assault against CJ Wizard near the end of the match, and thus allow Oshujax to become the new DCO Champion in the process. During commentary for DCO Episode 7, the Platinum Age would attack Rick The Fisherman before his tag team match against the Platinum Age with CJ Wizard as his partner, and then go on to defeat CJ Wizard in a Handicap match. At WEDF Rasslemania, Oshujax would be in Matt Eichorn's corner for his match against rival Suspect, where Oshujax would intervene to help Eichorn win after Suspect had attacked Oshujax unprovoked. Because of Eichorn's victory at Rasslemania, the Platinum Age simultaneously became the first two members of the DCO roster to secure spots on the WEDF's main roster. Shortly after this, however, DCO would close down as the WEDF developmental fed, thus making Oshujax the final DCO World Heavyweight Champion in WEDF territory.
SmackDown!, Feud with Danny Jackpot
On the Season 2 premiere of WEDF RAW on commentary, both Oshujax and Eichorn hinted that they were planning on joining the SmackDown! brand as a part of the stipulation from Suspect's defeat at RassleMania, which allowed the Platinum Age to join SmackDown any time they wanted. On the same night, they revealed that Zach Starr had joined the Platinum Age. As part of their official SmackDown! debut, where they both commentated as well, they revealed to General Manager Teddy Long that they had chosen to join SmackDown! to take over the show, and reminded Long of the damage they had done to DCO. Long immediately booked both men in a Tag Team match, as they vowed to win the WEDF World Tag Team Championships. Their first match as official WEDF Superstars saw them defeat Cryme Time (JTG & Shad) with ease after Eichorn gave Shad the Killshot. Oshujax would help new Platinum Age member Dolph Ziggler capture his first Intercontinental Championship. Oshujax slid a chair into the ring with the referee out and Ziggler then hit Jeff with the Chair. On an episode of WEDF Flame, Oshujax would defeat Cody Rhodes. Tension between Platinum Age started between co-leaders Oshujax, and Matt Eichorn. Eichorn had gotten tired of the direction Platinum Age was going and had wanted a fresh start on Raw. Eichorn then moved to RAW. Platinum Age slowly fell apart. Oshujax however had won an award on the WEDF Slammys, as he had won the Newcomer of the Year award. Platinum Age's final match resulted in a loss on the WEDF Tribute to the Troops special as Oshujax, Ziggler, and Starr fell victim to the Hardys, and Daniel Bryan. However, Oshujax managed to recover from Platinum Age breaking up by defeating Daniel Bryan on Episode 92 - Smackdown. Over the course of a few weeks, Oshujax and Daniel Bryan had some personal issues which resulted in several Daniel Bryan beatdowns by Oshujax and company. In his first singles match after the disbandment of Platinum Age, Oshujax would defeat Daniel Bryan, but Daniel Bryan would defeat Oshujax on the next episode to become the number one contender to Dolph Ziggler's Intercontinental Championship in a match that also featured Alberto Del Rio and R-Truth. On commentary, Oshujax had talked about someone who had screwed him over, while also showing a change in attitude, as he began to verbally lash out against Danny Jackpot. At WEDF Last Resort 2, Oshujax finally made his move after Kurt Angle failed to defeat Danny inside the Hell In A Cell, as Oshujax would beat Danny down and lay him out in the middle of the ring.
This change in attitude lead to Oshujax getting featured in his first WEDF Main Event: a six-man tag match with Rob Van Dam and Goldberg as his partners against John Cena, Danny Jackpot, and World Champion Christian. Oshujax would be eliminated first from a disqualification, as he would bust Jackpot open with a steel chair. On the next United, however, Oshujax would defeat R-Truth in the main event. Oshujax would be voted into a WEDF Intercontinental Championship match at WEDF Fate of Champions 2 against former Platinum Age stablemate, Dolph Ziggler. Oshujax would lose this match from interference by Danny Jackpot, as he would help Ziggler win the match. From there, Oshujax was entered into the King of the Ring tournament, where he would defeat Jeff Hardy in the first round via countout. On WEDF Flame, Oshujax has been featured in a bit of a feud with Dorf Liggleton and the Vertex. In the next round, Oshujax faced rival Danny Jackpot, and would ultimately lose the bout due to running interference from Jeff Hardy. After that, Oshujax and the New Breed would take on Jackpot and the Hardys, but would lose. Frustrated at this turn of events, Oshujax would continue to be in pursuit of Jackpot, going so far as to attack him before his semi-final match with King Booker at WEDF King of the Ring and costing him the tournament. He then appeared in an attire similar to Danny Jackpot's old attire from 2010, with the words "Duck Fanny" on the back. He stated that he was obsessed with Danny Jackpot, so much to the point that he wanted to do nothing more than cause him pain -- in his mind, Oshujax believed that Danny was the one who kept screwing him out of the accolades he should have earned. Oshujax challenged Danny to a 15 Minute Iron Man match at WEDF Summerfest, which Danny gladly accepted. However, Oshujax would downtalk Danny's deceased brother, Ron Jackpot, and the two would get in an altercation.
Later on in the night, Oshujax claimed he could win every single Championship in WEDF by himself. General Manager Theodore Long talked about the WEDF World Tag Team Championships held by the New Breed, and Oshujax said that he couldn't do it alone, but he could do it with the next person that walked through the door. Ironically enough, it was none other than Oshujax's nemesis, Danny Jackpot. Before that on WEDF Flame, Oshujax fought John Morrison, Steven Spriter, and then-champion Dorf Liggleton for the Hardcore Championship, but came up short as Morrison went on to become a Grand Slam Champion. In their match against the New Breed for the Tag Titles, Oshujax and Danny would successfully capture the gold, making Danny Jackpot a Grand Slam Champion in WEDF. However, during the match, Oshujax would tag himself in and take the credit for winning the match himself. Later on, the New Breed would cash in their rematch clause as Oshujax would go on to screw Danny over and leave him high and dry. The New Breed as a result regained the World Tag Team Championships, but Oshujax went on to say that it was, in fact, Danny Jackpot who lost the titles that Oshujax had won "without his help." At Summerfest Oshujax would beat Danny in the Ironman match 4-3, getting his last two pins within 30 seconds including the last one with seven seconds.
On the next SmackDown, Oshujax would confront Zach Starr about his personal issues with him, consisting of claims that Starr was no better than his cousin. Oshujax did not like the fact that Starr was getting opportunity after opportunity while he was getting nothing. Eventually, John Cena would come out and mock their previous faction, Platinum Age, then challenge both men to a match with a little help from Danny Jackpot. Danny came out to challenge Oshujax to a rubber match at WEDF Unforgiven, this time for an Ultimate Submission match between the two. This lead to a tag team match being set up between Cena and Danny against Starr and Oshujax. In the match, Rob Van Dam would come out and brawled with John Cena. Kurt Angle and Jack Swagger would follow up by attacking Danny in a three-on-one assault with Oshujax. The chaotic situation spun even more out of control with the involvement of the New Breed and the Hardy Boyz, but eventually things settled down as Oshujax hit Danny with the Wasteland; however, Starr would steal the pin by tagging himself in.
Despite his personal problems with Zach Starr, Kurt Angle would extend an offer to Oshujax, asking him to join Team Angle. Oshujax would personally accept that offer by helping Kurt Angle defeat Rey Mysterio in the main event of that same SmackDown. On an episode of RAW while on commentary, Oshujax "disappeared" for a moment; this lead to a SmackDown invasion lead by the Angle Alliance, as Oshujax would attack RAW's John Bradshaw Layfield while Zach Starr, Jack Swagger, and Kurt Angle would all attack Suspect. At Royal Rumble 2
Intercontinental Champion and Face Turn
He defeated Bobby Lashley to win the The Intercontinental Championship. He defended the title at Rasslemania 2 against Rob Van Dam, Evan Bourne & Dolph Ziggler. Oshujax would hold his championship for over a year, even turning face and defending against heels such as Brock Lesnar and Cody Rhodes, whom he lost the title to at WEDF Summerfest 2, ending his historic title reign at 560 days.
Oshujax was apart of a #1 Contender's Six-Pack Challenge for the World Heavyweight Championship which featured Danny Jackpot, Sheamus, Kurt Angle & Alberto Del Rio and the winner Evan Bourne. At WEDF Survivor Series 3 Oshujax was apart of Kofi Kingston team with Kurt Angle against Dolph Ziggler, Sheamus and Alberto Del Rio, Oshujax and Del Rio were both eliminated via countout when both men fought to the entrance ramp.  While Oshujax was looking for Del Rio backstage, he ran into a Shield ambush. Oshujax would later change his name to Joshua Bishop. At WEDF Armageddon Joshua Bishop & Evan Bourne was defeated by The Shield in a 2 on 3 Handicap Match, the Originally the match was a six man tag match, but due to Ryback ambushed by the Shield, it was turned into a handicap match.
At WEDF RassleMania 3 Bishop would team with Million $ Congregation (Elijah Burke & Suspect) as they defeated The Shield (Dean Ambrose, Seth Rollins & Roman Reigns) in a Six Man Tag Team Match
NAW North
Oshujax would appear for a NAW North webmatch against longtime enemy Javori Smart. Smart would defeat Oshujax by countout.
Return of NAW
On July 20th, 2010, it had been revealed that Oshujax became a part of the NAW roster. In his official NAW debut, Oshujax took part in a ten-minute Hardcore Scramble for the NAW Hardcore Championship featuring Ed McMahon, Link, and Kane. He became the Hardcore Champion twice in the match before eventually winning the match and leaving as the NAW Hardcore Champion. Since then, Oshujax has gone on to become an twelve-time NAW Hardcore Champion, now having the second-most reigns as the NAW Hardcore Champion. In his official NAW Mayhem debut, Oshujax faced off against Shawn Dynasty, Steven Raden, and Andrew Liana in an elimination Fatal 4 Way for the NAW Television Championship. Oshujax was the last eliminated in that match after two Dynasty Destroyers and his own "iCoNiC Revolution" finisher from Shawn Dynasty. The next Mayhem would feature Oshujax teaming with Chris Johansen for the first time, as both men would go on to defeat The Dudley Boyz in their first match together. From there, both men became a legitimate tag team and went into pursuit of the NAW Tornado Tag Team Championship.
On the first edition of NAW Voltage, Oshujax would go on to defeat TX3 with a lariat that Oshujax now refers to as the "Billion Dollar Lariat", in regards to Suspect's Million Dollar Lariat. In respect for Suspect, however, Oshujax has since referred to the move as the "Million and One Dollar Lariat", yet the move is still recognized as the Billion Dollar Lariat. His next match on the third edition of Voltage pitted him against Team ACWL's Guile, which went to a double countout before Team ACWL's Shadow came out to assist Guile in a post-match brawl with Oshujax and Johansen. After that, at NAW Final Countdown, Oshujax and Johansen would go on to defeat Billy and Chuck for the NAW Tornado Tag Team Championship, where the losers would leave NAW. Oshujax and Johansen are set to defend the Championship at New-WWE/NAW Royal Rumble 4 against a mystery team; along with this, Oshujax is scheduled to compete in the 30 Man Royal Rumble match representing NAW.
Outer Limit Wrestling
Oshujax made his OLW debut against Ryan ReX on the second episode of Showdown, defeating him to advance in the OLW Intercontinental Championship tournament. OLW would close down following its second episode.
In the first IWT match ever, Oshujax defeated IWT General Manager Suspect with a single leg Boston Crab. On the official IWT debut as a full time CAW league, Oshujax was entered into the Road To The Gold tournament in order to determine the first IWT World Heavyweight Champion, where he defeated Devil Goat in a Quarter-Final match. After several months of being featured on streams, he will be inducted into the Hall of Fame by Suspect and also feature in the One Night Stand Tournament. At IWT One Night Stand, Oshujax would defeat Coca Cola Can to get to the Semi-Final round in a match against Matt Eichorn and Blake, but Blake would pin Eichorn and subsequently eliminate Oshujax. On Pass Out Episode 2, Oshujax athough was not mentioned on the card was revealed to be Suspect's Chosen One and successfully defeated Biff Andreas to win the IWT World Heavyweight Championship.
Oshujax made his debut in Jeri-MAX at the 2nd Jeri-MAX Spiral Rumble, where he helped commentate the Spiral Rumble match itself along with Walleh. During the match, his over the top reaction to Rachel from Big Brother entering the match would lead to her getting a contract from Sakoda and Don Bronchitis, who misinterpreted his anger as joy.
He would make his in-ring debut for the promotion on the 3rd episode of Jeri-MAX Eastern where he went on to defeat Rachel's fiance Brendon, who was looking to avenge the love of his life. He came back one episode later to participate in a 4-Man Tournament in order to crown the first ever Jeri-MAX Light Heavyweight Champion, but was defeated in the first round by Biff Andreas, who went on to win the tournament and capture the title.
Oshujax would later make a cameo at JeriMania II: The Quickening, where he chose to adopt Justin & Huffington after they were kicked out of The Gower Dynasty, giving his last name of Bowers to the brothers and labeling them The Bowers Dynasty.
At NESE Kurt Russellmania, Oshujax was revealed to be Keith Connor's mystery tag team partner after Connor took out Fire Ant of The Colony to turn their Tag Team match into a two-on-one Handicap Match. Connor and Oshujax would go on to retain the NESE Tag Team Championship after Connor forced Soldier Ant to tap out to the Edgucator. The Colony would continue to be in pursuit of Oshujax and Connor while both men had bigger things to worry about with Team Doctor (Rorscach & The Doctor). Nevertheless, Oshujax would take it upon himself to fire a warning shot at Soldier Ant, attacking him backstage during the NESE West return show. On the next episode of NESE West, Oshujax and Connor would successfully defend their Tag Team Championships against Team Doctor. At NESE Rondo of Blood, Oshujax and Connor would successfully defend their Tag Team Championships against The Fourth Wall (Deadpool & 90's Kid). Their next appearance in NESE West would see them challenging and defeating the "greatest tag team in the history of CAW", The Basham Brothers, for the NESE Tag Team Championships. Keith Connor would then address The Colony's challenge for a Tag Title match at NESE Springtime for Hitler, as Connor asked for only one stipulation: The Colony are to put their masks on the line and demask if they lose. On the next episode Oshujax defended The Alabama Heavyweight Championship of Alabama against Hardcore Holly, succssesfully.
In the e-fed version of this CAW league, which continues off this history, Oshujax was the World Heavyweight Champion. Continuing from New-TNA Genesis, Oshujax bragged about how he retained the World Championship over AJ Styles by default from a time limit stipulation (AJ had almost pinned Oshujax but time ran out before the referee could count three), which lead to another argument between AJ and Oshujax. The new iMPACT General Manager, Theodore Long, then booked a rematch to happen at New-TNA Against All Odds under Falls Count Anywhere rules. In the main event of the first iMPACT, Oshujax and his apprentices, Sinner's Paradise, faced AJ and the Tag Team Champions, the Motor City Machine Guns in six-man tag action. Styles would pin Oshujax off the Styles Clash. On the following iMPACT, AJ Styles and Oshujax participated in a "Pick Your Poison" contest, and Oshujax would begin the night by facing the X Division Champion, Trey Owens. Owens was handpicked by Styles and would ultimately defeat Oshujax in a huge upset. Oshujax had hit Owens with the Wasteland, but chose to taunt instead of going for the pin, which lead to Owens hitting Oshujax with the T.O. Show to win. Oshujax, however, would gain a measure of revenge by attacking AJ Styles before his match, where Oshujax would reveal that he had a new protege joining him alongside Sinner's Paradise. This protege was revealed to be none other than Ryan ReX, as ReX would go on to defeat AJ Styles in his debut. The next Xplosion Oshujax Assulted AJ Styles, giving him minor injuries. The Match was originally a tag team match but due Aj eing taken out, Oshujax was kicked out of the match making it Daniels Vs. Ryan ReX 1-on-1, which Ryan ReX won.
On Commentary
Oshujax made his commentary debut on a WEDF episode of SmackDown! sometime before the Royal Reckoning, and continues to commentate regularly for WEDF. He has since went on to commentate for IWT, NAW, and NESE. He has also made guest appearances commentating the Something CAWful King Of Trios 2010, the Aaron Alexander Ultimate Endurance Match, the 2nd Jeri-MAX Spiral Rumble, and the CAW Young Lions Cup. During his first months as a commentator, Oshujax normally commentated his own matches in third person, but has since shifted over to commentating in character. The best example of this came when he and Matt Eichorn commentated while wrestling their own match during the final episode of WEDF's DCO against CJ Wizard. Oshujax's inspirations for his commentary are Jim Ross and Matt Striker.
Among many CAW fans, Oshujax is acknowledged as one of the best commentators in CAW today, gaining notable praise from WEDF commentator Frank Dawg, New-WWE owner Burb, and RAWR owner Soundwave. He was nominated for Best Commentary with Matt Eichorn in the Something CAW Awards, but the winner of the award would be Hogan vs Flair's Joe Lexington and Carl "Caveman" Touretta.
Personal life
In his free time, Oshujax enjoys playing guitar and video gaming. His favorite music is grunge, alternative rock, metal, and punk rock. He is close friends with Danny Jackpot, The Suspect, Steven Spriter, Ryan ReX, and Zach Starr. He is currently dating Lillith Miller. According to Oshujax, one of his biggest dreams in CAW is to wrestle for New-WWE, a league who has been in recurring talks with him in terms of a contract. He has slated that the changes in his look and gimmmick have always been a "work in progress" throughout his whole career, and has always needed to "tweak one thing or another" at times. He has gained praise for his changed look and attire since his earlier days where he was marked as a "John Morrison clone."
In wrestling
Signature moves
As Joshua Bishop:
Eternal Rest / Fame Killer (as the Main Attraction)' - Cobra Clutch, sometimes succeeded into

Fame Breaker (as the Main Attraction) - Cobra Clutch Backbreaker
Fame Crusher - Cobra Clutch Legsweep

Magnum Opus - Omega Driver
The Fall of Ideals - Emerald Flowsion
Running Lariat
As Oshujax:
F.T.S. - Standing fireman's carry takeover
Wasteland - Forward fireman's carry slam
Creeping Death - Cliffhanger DDT
Spinning Reverse STO
Death Magnetic I (OCL, UWE) | Nigger Lynching (XWA-WC, CEW) - Facebuster, either with a double arm DDT lift (OCL, UWE, XWA-WC) or with a Powerbomb lift (CEW) - 2008 - present
Death Magnetic II - Modified Piledriver with theatrics - February 2009 - July 2009
Death Magnetic III - Punch Combination Followed By A Black Hole Slam - September 2009 - November 2009
Dragon Sleeper - September 2009 - October 2009; November 2009 - February 2010
Styles Clash - Landing Pin - 2008-2009
Midnight Ride - Jumping Neckbreaker - 2008-2009
Wisdom Cutter - Jumping Cutter with theatrics - 2008-2009
Unholy Confession - Chokebreaker to a Double Underhook Piledriver - February 2009 - May 2009
Standing Muscle Buster (OWE) - Modified Fisherman Buster Suplex - March 2009 - May 2009
Descent From Decadence - Emerald Flowsion - June 2009 - present; used as a signature move thereafter
Boom, Headshot! - Running Big Boot, usually to a cornered opponent - July 2009
Moonlight Drive - Corkscrew Neckbreaker
Shooting Star Splash - Standing Shooting Star Press
Descent From Decadence II - Modified Tombstone Piledriver
Cobra Clutch, sometimes succeeded into the following

Back Breaker
Suplex Slam (NAW)
Russian Leg Sweep

iCoNiC Revolution - Over the shoulder reverse piledriver, with theatrics - jokingly referred to by Oshujax as "Matt Eichorn's 'El Jefe Driver'"
Billion Dollar Lariat/Lariat - Running lariat in tribute to John Bradshaw Layfield; with respect to rival Suspect, Oshujax refers to the move as the "Million And One Dollar Lariat"; sometimes used as a signature move
Gutwrench Gutbuster
Alabama Slam
Uranage Backbreaker
Around The World - Oshujax lifts an opponent by their knees and spins them for three to five seconds, then tosses the opponent to another side of the ring
Running High Knee
Flapjack
Running Knee Facebuster
Double Arm Chokeslam
Electric Chair Drop
Spinebuster
Alabama Slam
Running Spear
Spinning Fisherman Suplex
Backbreaker
Reverse Death Valley Driver
As Oshu Jackpot:
Cash In - Old School DDT with kick out - February 2009 - March 2009
One Kick KO - Shining Wizard, usually on the ground - February 2009 - March 2009; used as a signature move thereafter
Death Magnetic II - Modified Piledriver with theatrics
Shooting Star Splash - Standing Shooting Star Press
Cartwheel Elbow Drop
Yallin' Elbow
Leg Drop to groin
Enzuiguri
Two punches followed by a Rock-style punch
Three punch combination with theatrics

As Ashtray:
F-U - Standing fireman's carry takeover; known as the F.T.S. as Oshujax
Ashtray Bomb - Sit Down Powerbomb
Five-Knuckle Shuffle - Fist drop with theatrics
Pedigree - Jumping Double Underhook Facebuster
Swanton Bomb - Diving Senton Bomb
Spinning Powerbomb
Themes
Championships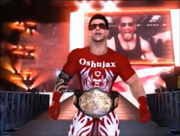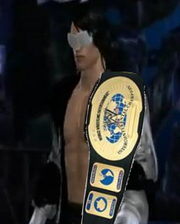 Global Wrestling Association
Hardcore CAW Wrestling

HCW World Heavyweight Championship (1 time)
Mr. Money In The Bank (2010)
Created The "Feast Or Fired" Concept Match
HCW LiveWire Guest Host
HCW Feud Of The Year (2010) - w/ Osiris & Keith Cutler
Online Caw League

OCL Intercontinental Championship (3 times) (Final)
OCL Hardcore Championship (2 times)

Wrestling Entertainment Dynasty Federation
Awards and Other Accomplishments
Year
Award
Category
Result
2010
Something CAW Awards
CAW of the Year
Won
Tag Team of the Year (Platinum Age w/ Matt Eichorn)
Won
CAW Superstar to look for in 2011 (w/ Matt Eichorn)
Won
Best Commentary (w/ Matt Eichorn)
Nominated
WEDF Slammys
Newcomer of the Year
Won
Tag Team of the Year (Platinum Age w/ Matt Eichorn)
Won*
WEDF Superstar to look out for in 2011 (w/ Matt Eichorn)
Won*
Worst Feud of the Year (Suspect vs. Platinum Age)
Won
IWT Awards
Superstar of the Year
Nominated
Best Foreign Superstar (Nifland)
Nominated
Match of the Year (Oshujax vs. Devil Goat)
Nominated
SEX Superstar of the Year
Won
2011
WEDF Slammys
Most Improved Superstar
Won
WTF Moment of the Year
Won
Superstar to watch out for in 2012
Nominated
Theme of the Year
Nominated
Funniest Moment of the Year
Nominated
Lucha de Apuesta record
| Wager | Winner | Loser | Show | Date | Notes |
| --- | --- | --- | --- | --- | --- |
| Title | The Colony | The Masters of the Attitude Adjustment | NESE Springtime for Hitler | 14th July 2011 | Title vs. Mask match |
The Vivianverse ranked him #32 of the best 50 singles wrestlers in the The Vivianverse Top 50 in July 2011
The Vivianverse ranked him #17 of the best 50 singles wrestlers in the The Vivianverse Top 50 in December 2011
The Vivianverse ranked him #16 of the best 50 singles wrestlers in the The Vivianverse Top 50 in July 2012
Due to the breakup of Oshujax and Eichorn as a Tag Team, these awards were stripped from them and awarded to their runner-ups: The New Breed and John Morrison, respectively. All singles awards and the "Worst Feud" award was retained, however.